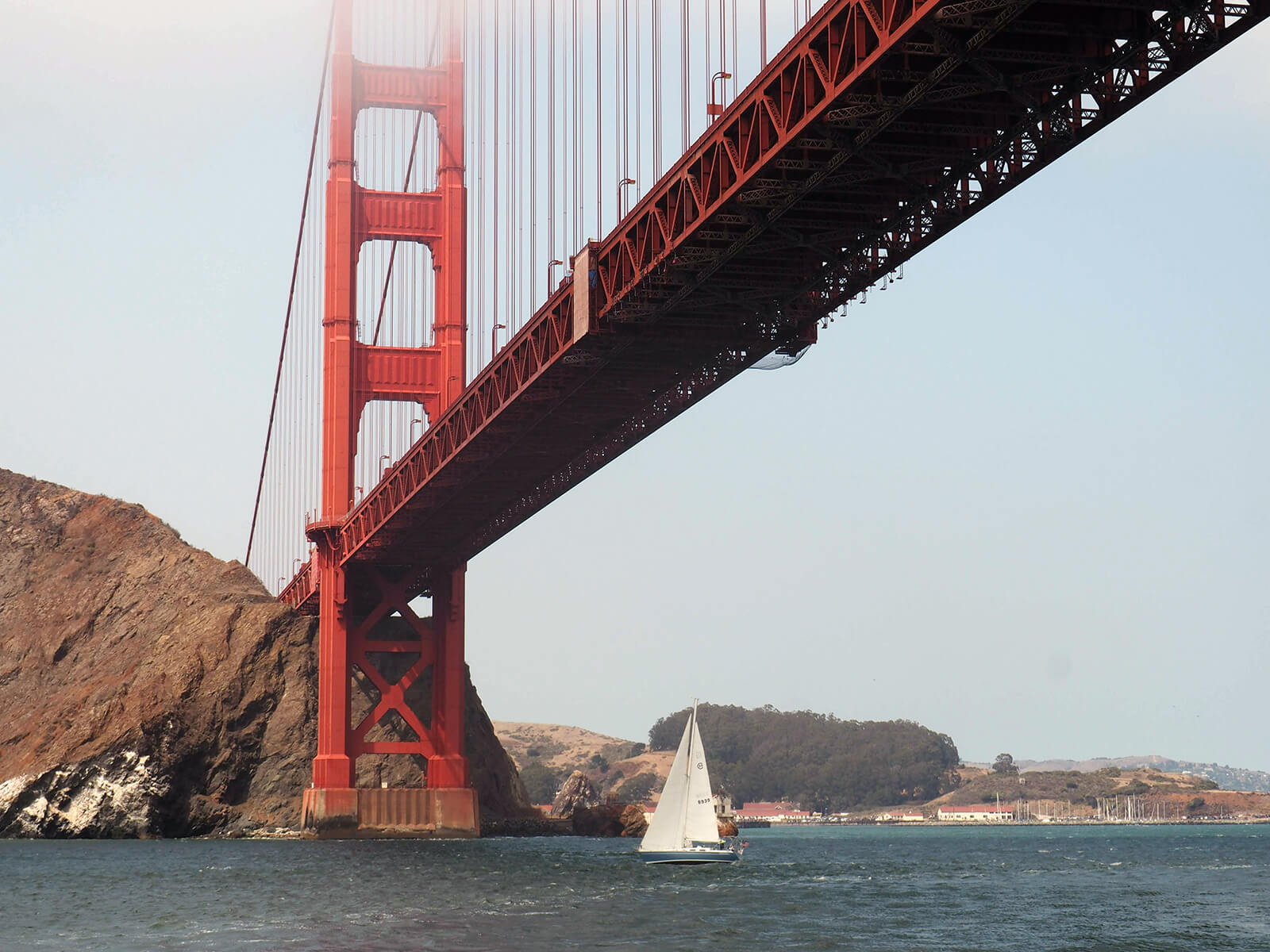 The Bay Area is home to over 7 million people and covers almost 7,000 square miles. With all that room and things to see, there's no shortage of activities to do. We only had a quick three day weekend to fit in all the things we wanted to see, but we managed! Check out some of our tips of how to rock a weekend getaway to the Bay Area.
Courtyard Oakland Downtown
Everybody's heard of the Bay Area, and if you want to go to visit, you would figure you go stay in the city, San Francisco. However, this leads most to miss out on half of what makes the Bay Area unique, the town of Oakland. It's not only a place of its own history and culture, but even if you're only interested in seeing San Francisco, Oakland is just a twenty minute public transportation ride away from that, and much more affordable to stay in.
We stayed in the Marriott Courtyard Oakland Downtown. Just a block from the BART station, its location is perfect for anyone needing to get anywhere by public transportation or car. Plus, since we happened to have a car, they offered us full 24 hour valet service. There's bus stations nearby, but many locations are within walking distance from there, including the magnificent Lake Merritt. For anyone seeking restaurants, bars, shops, or even a weekend farmer's market, it's all close by.
Sitting on Broadway and 9th, the hotel looks over both these streets, and is visually appealing with a modern sleek design. The look is a result of several recent upgrades, making the hotel suitable for the modern tech savvy traveler, and free WiFi is included with your stay. The lobby is connected to the restaurant, and both areas are open and full of comfy chairs, making it the perfect place to either eat, or just relax any time of day. 
Lake Chalet
One of our favorite places for dinner in downtown Oakland is Lake Chalet Seafood Bar & Grill. Delicious meals paired with live musical entertainment and beautiful views of Lake Merritt make for an evening you don't want to miss out on.
Given the beautiful hot day we visited, it felt appropriate to start with some cocktails. We wanted to open with something light yet tasty, so we had the Lake Chalet Louie Salad, a mix of iceberg lettuce, tomato, avocado, and shrimp. In addition, we tried the fried cauliflower, which came with a great red pepper sauce.
For our entree meals, we went with the Lake Burger and the Grilled King Salmon. The burger came with delicious fries, and the salmon came with brussel sprouts and miso butter sauce. If you typically don't like salmon because it lacks a sauce to complement, this would be a perfect introduction for you.
It was tough to eat more after the filling meal that preceded it, but dessert was so enticing we just had to try it. We're both big fans of cheesecake and butterscotch, and fortunately the menu included both of those things! The butterscotch pudding was divine, and the cheesecake was caramelized white chocolate, creamy and came with fruit that complemented it well.
Fabulous food with rocking music and spectacular lakefront views combine for a great experience. Especially if you live in Oakland but have never given this place a try, there's no time like the present. 
Pier Market Seafood Restaurant
While you wander the famous waterfront you'll no doubt be drawn to the packed Pier 39. Filled with places to eat and shops to check out, it's easy to be overwhelmed with the sheer amount of choices. We ate at the Pier Market Seafood Restaurant, and couldn't have been more satisfied.
To kick off the meal we started with their house specialty cocktail the Alcatraz Slammer which tastes just lovely and is packed with coconut rum, orange and pineapple juices, grenadine, shaken and topped with dark rum.
Since we were eating right on the ocean, we felt it would be appropriate if our opener was the Honey BBQ Shrimp. It was both sweet and tasty thanks to the honey barbecue sauce, which they make in house and cook the shrimp in.
The entrees we chose were the Mesquite Chicken, which came with cut potatoes. We recommend having some teriyaki sauce on the side, as it pairs well with the meat. For the fish lovers, there's the fried stuffed trout, which was the daily special when we were there. It is a full trout with skin and face intact, so if you get queasy seeing the face of the animal you're eating, you might want to try something else! It's served with a delicious tartar sauce, vegetables, and your choice of rice or potatoes.
To round the meal off, for dessert we tried the apple crisp and vanilla bean creme brulee. The crisp was made from granny smith apples and topped with a delicious crumble and vanilla ice cream. The brulee is a custard pudding type of delicacy, and was the perfect thing to shake up our meal. We were tempted to try their cheesecake, but since we had cheesecake at the previous restaurant we went to, we wanted something different.
There are dozens of restaurants on Pier 39, so there's no shortage of places to try in the area. It's frequently crowded and full of options, so take our word and save some time searching for the right place. 
Alcatraz Cruises
When you think of San Francisco, chances are one of the first images to come to your mind is the infamous island prison, Alcatraz. Built during the Civil War to protect from invasion and converted to a federal penitentiary in the 1930's, "The Rock" lies in the middle of the bay and is easily visible from the waterfront of the city. In my many visits to the bay, I never had the time to visit it, but that ended this trip, as we had the privilege of seeing it up close.
The cruise-liner Alcatraz Cruises allows visitors an inside peek at The Rock and some great historic offerings too. First off, arriving at least thirty minutes early to your tour boat is important, since lines form and your tickets have to be picked up in person. There's also a model of the island to examine as you wait. The boat you cruise to the island in docks at Pier 33, easily accessible from the sidewalk and the waterfront train, MUNI. The trip is a comfortable ride and only 15 minutes, and the boat itself has an observation deck giving you spectacular views of the island and the city during the journey. If you didn't bring layers and it's too cold out, you can still get a view through the windows down below.
Oakland A's Baseball Game
When the sun starts to set and the air cools to more manageable temperatures, there's nothing like taking in a good old fashioned ballgame. We ended our first day watching the Oakland A's take on the Houston Astros, and the experience was electrifying.
The stadium is easily accessible by car or public transportation. There are several parking lots to park in, and the BART stops right next to the ramp to go inside. This makes it very simple to get to and from games. The field itself is beautiful. Every section of grass is bright green, almost reminiscent of a golf course.
The staff was very accommodating and friendly. Anywhere I needed to know where to go, whether it be to a bathroom, concession stand, or even my own seat, they were there and extraordinarily courteous. There are plenty of food options and stands to get paraphernalia, whether it be a hat, shirt, or pennant to cheer on the A's. For those who want a good ballpark food option, there's nothing like the old standby of a hot dog, but the left field corner of the field level contains a great barbecue outfit. There's also a stand for beers and ciders behind home plate.
I don't think I've ever been to a ballpark that had fans as invested in the game as here. People are constantly cheering the team on, booing the opposition, or chastising the umpire for a blown call. You don't want to come to this park if you're looking for some peace and quiet, it's a rambunctious crowd. I loved it personally, but if you prefer a more reserved crowd at a ballgame, you'll need to look elsewhere.
There's many reminders of the glory the franchise has acquired over the years. The retired numbers of past players are displayed in enormous size in the upper deck, and those same players are caricatured in a costumed race in the later innings. There's also a small museum covering the history of the team if you have the time to devote to it.
There's plenty to offer for any baseball fan, and for a summer afternoon or evening there's nowhere else I'd rather be. The San Francisco Giants across the bay have their own ballpark, but if you're on the east bay, don't skip out on the A's. 
Blue & Gold Bay Cruise
When I was about a teenager I recall my grandmother telling me of all her adventures while visiting the Bay Area with my grandfather. One of her fondest memories was taking the fleet under the Golden Gate Bridge where my grandfather puckered up and landed a big kiss on her. Today, these may only be memories for my grandmother as my grandfather passed several years ago, but they live on forever. When my first trip to the Bay Area came, I knew that I needed to do something not only for myself, but for my grandma. I went to the same fleet she did, and with my man in hand kissed him under the Golden Gate Bridge. Sometimes memories like these are all you have and in the end they are the most important.
The Blue & Gold Fleet takes both locals and visitors on an adventure of a lifetime. Whether it be to reenact a family memory, or to just soak in the views, the SF Bay Cruise Adventure will leave you breathless and learning a lot more about this amazing engineered bridge that has been around for decades. The Golden Gate Bridge was constructed in the 1930's but looks as beautiful today as it must have then, so it's really worth it to get an up close view.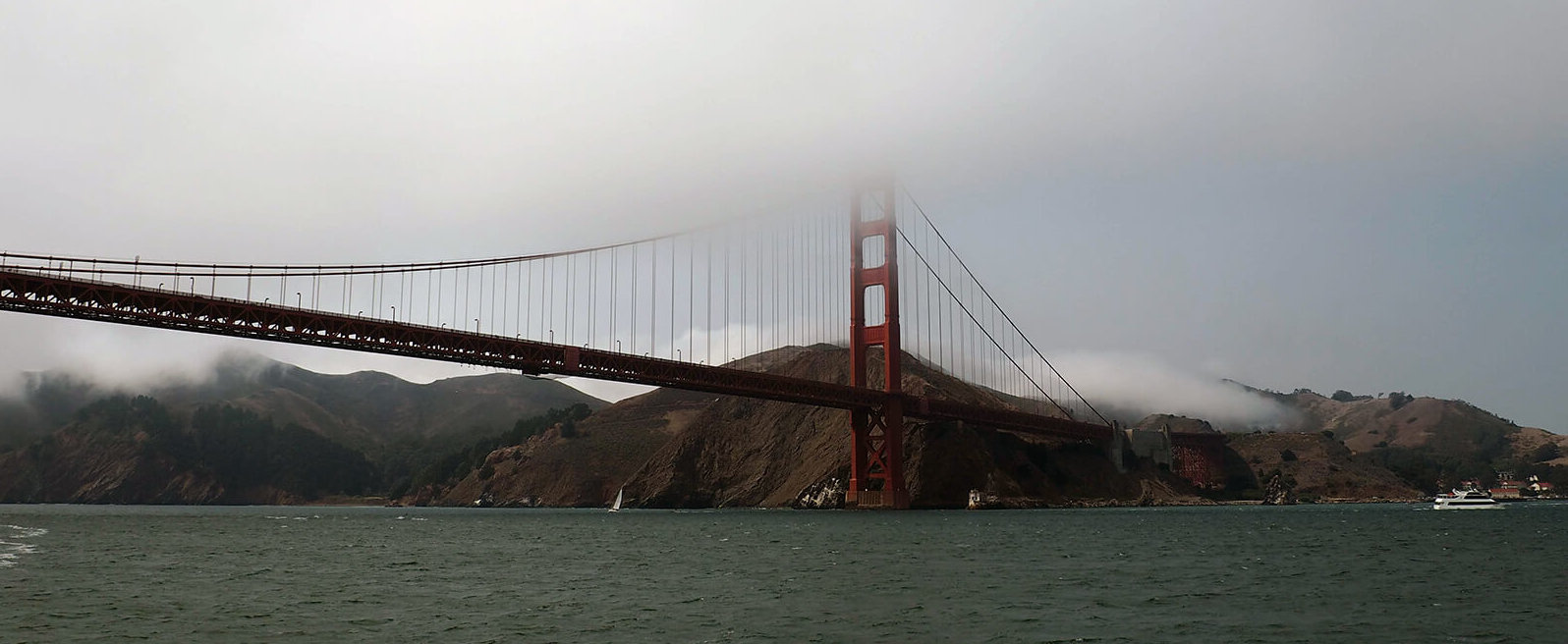 The tour boat is not enormous, yet can house many people without ever feeling too crowded. Do show up for your tour early though, so you can get a view of the water on the railing of the observation deck before it's taken. While you tour the bay, a narrator provides interesting historical information on the area and the construction of the bridge. Later the boat passes by Alcatraz Island, and you get a brief preview of the fantastic tour that can be had by visiting there.
Whether you've gone to the Golden Gate Bridge hundreds of times or have never seen it before, this cruise is just the right trip to get a unique perspective of the famous landmark, and unequaled vistas of the city from the water. Do try to go on a day when it's not foggy, as then your view of the bridge will be that much better. 
In Conclusion
Obviously the Bay Area couldn't be entirely seen in only three days, and there were things we unfortunately couldn't do due to our short time there. Still, we're very proud of what we were able to cover, and it gives us incentive to return and try what we missed! We had a blast while there, and you're guaranteed to as well.