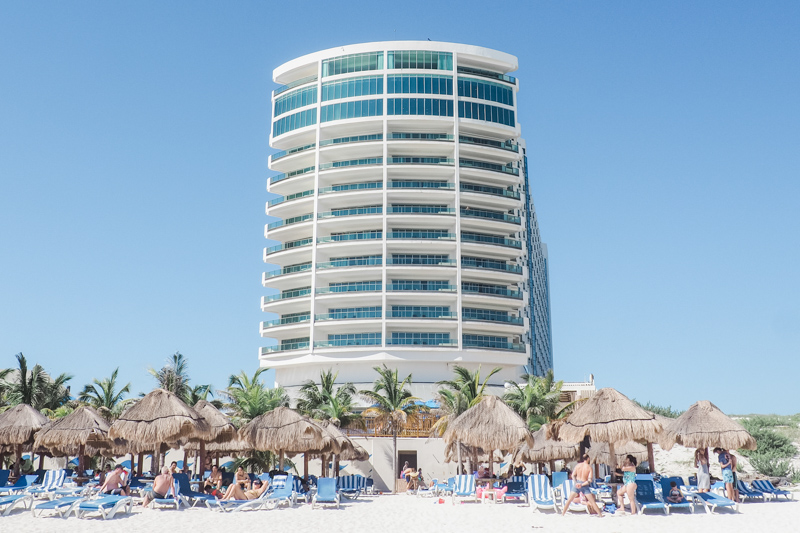 You know what they say, "When life gives you rain, run away to Cancun." Okay, maybe it doesn't go exactly like that, but it should. For Andrew's 27th birthday, we ran away from the cold of Washington's Fall weather and escaped to Seadust Cancun Family Resort in Mexico.
Cancun is a Mexican city, bordering the Caribbean Sea. Known for its white sand and clear water, we knew it was the perfect spot for the romantic getaway we desperately needed.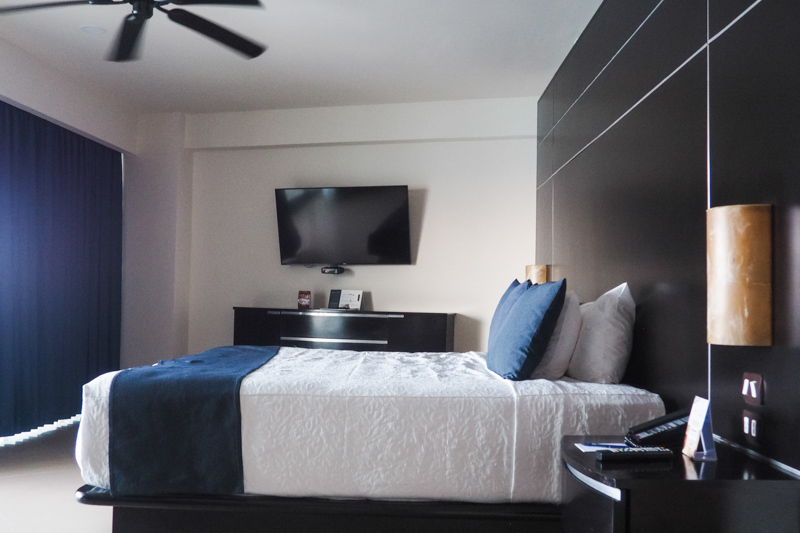 We have been wanting to explore an all-inclusive resort for a while now, and the Seadust Cancun Family Resort looked perfect! Located in the Hotel Zone of Cancun, the Seadust Cancun Family Resort sits on a long, beachfront strip.
The first thing that appealed to us about Seadust is the all-inclusive aspect. I've been on a cruise before which had the all-inclusive benefits and just loved it, and was curious to see how a resort differs.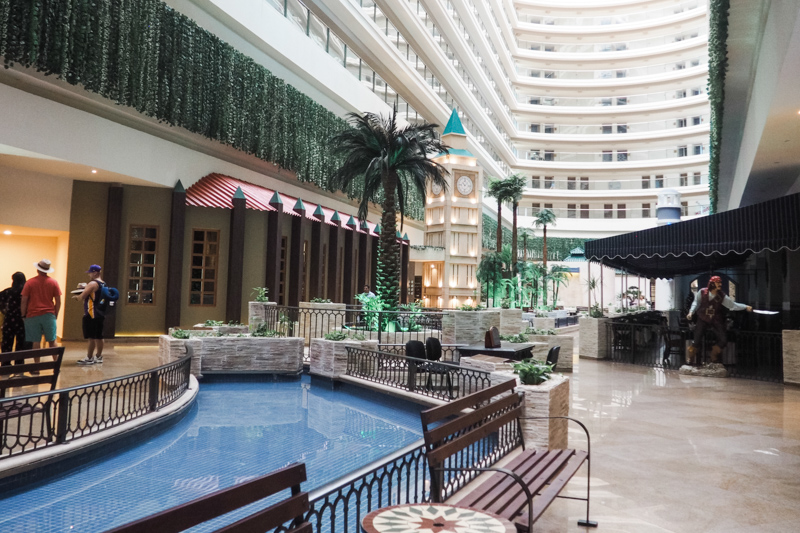 Seadust Cancun Family Resort is designed with both children and adults in mind. Featuring a large waterpark for kids, game rooms, family friendly pool areas to adults-only restaurants, bars and pool areas.
Since we didn't have kids, we were excited for some quiet time away from the noisy kids that family resorts often bring and looked forward to the clubs and bars. They also have a nightly theatre show and I've heard their Michael Jackson show is quite impressive, so try to book your stay around the day that's showing!
Upon arriving at Seadust we were immediately greeted by their expansive open air lobby filled with palm trees and water features. After an easy check-in, we headed up to the 8th floor where our ocean front suite was waiting for us. Now, I heard good things about the ocean front suite and was super excited to see the view, and let me tell you, these photos do not do it justice. You just have to go there and see it for yourself. The view is phenomenal!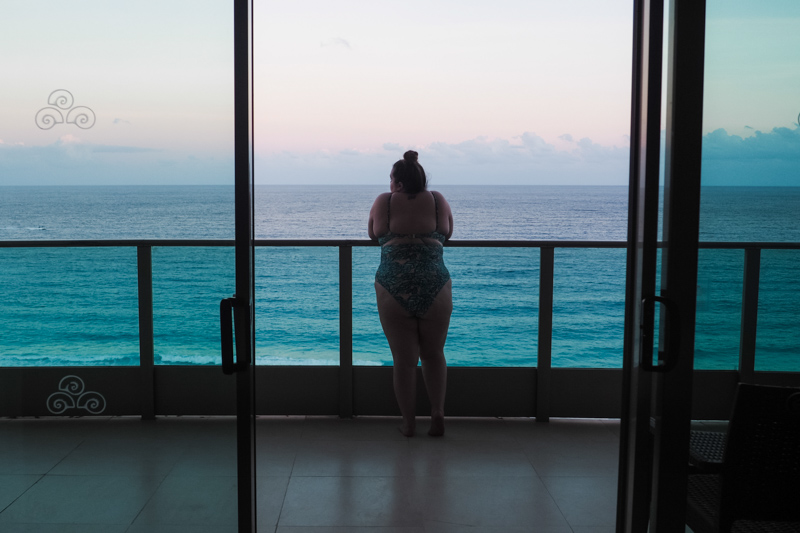 The ocean suite opens up to a long entryway, which leads to your large patio and bedroom area. The patio includes a private hot tub, seating areas and a view worth talking about. The bedroom has a comfy king bed looking out towards the ocean, television and small dining table. Back towards the entry door is a large bathroom that has lots of closet space and a large walk in shower.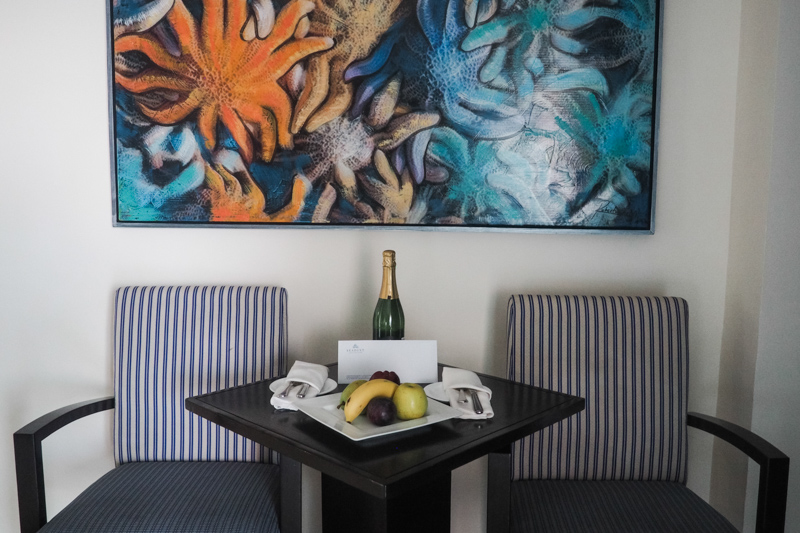 Every guest booked into the ocean suite enjoys a welcome gift that includes a fruit platter and a bottle of sparkling wine. Also included in a filled mini bar that has basic beer, sodas and water.
Our first night at Seadust we tried their signature Mexican restaurant El Maguey. Known for their unique take on margaritas and housemade chips and salsa, El Maguey was just one of the 10 incredible restaurants that the resort offers. Remember, these restaurants are included in your stay and are at no extra dining cost to you.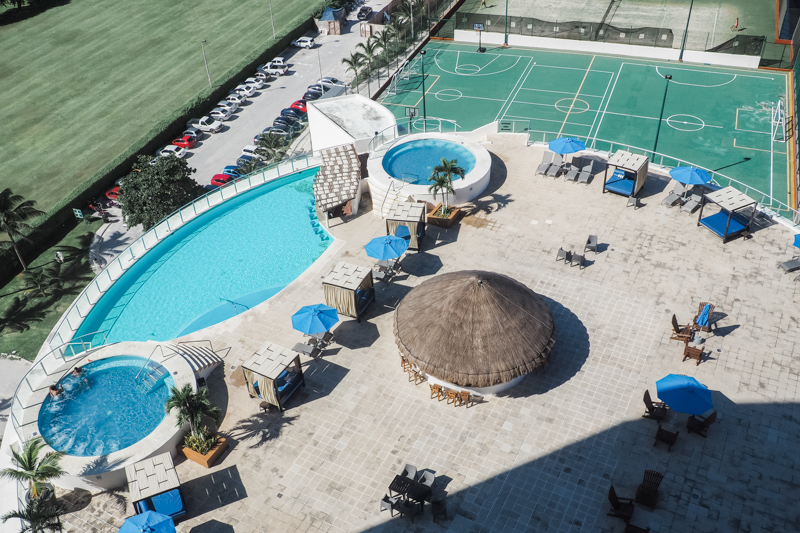 I'll admit, much of our time at Seadust consisted of lounging in the adult only pool area sipping cocktail after cocktail, watching the sun rise and set over the sea. However, when we weren't soaking up the sun, we were busy getting pampered at their spa or trying other food options.
The Seadust Cancun Family Resort has a wonderful spa area that offers a pretty impressive selection, considering it's a resort spa. Those booked in the ocean front suite get some of the spa services included in their room cost like the soak and sauna.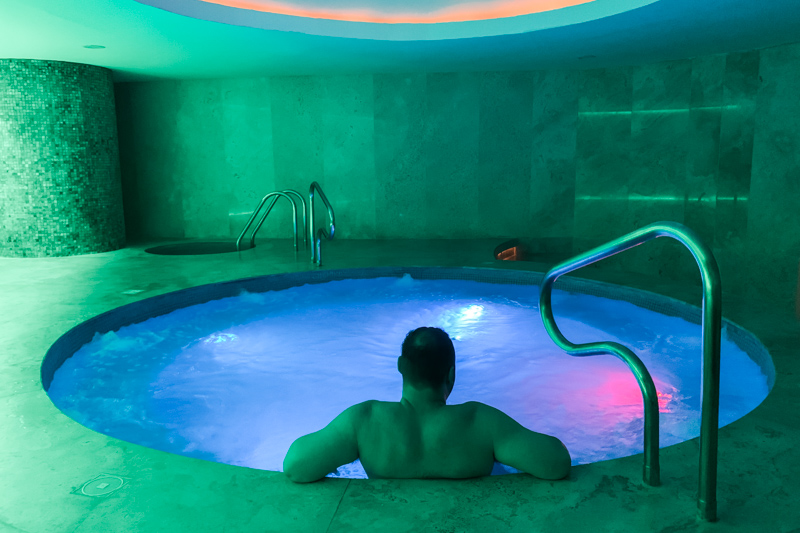 Being on a romantic getaway, we took advantage of their couples massage treatment, which included a full body massage, facial treatment and private soak. It was a wondrous experience for both myself and Andrew and is highly recommended.
This 90 minute session was well needed and makes me wonder why I don't make a spa treatment a regular thing. The spa also includes waxing, nail services, exfolitions and wraps, hydrotherapy and even treatments for children.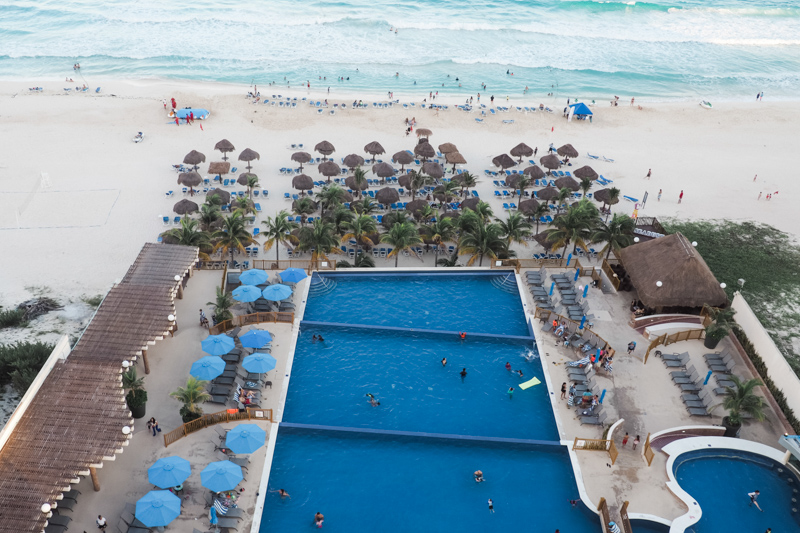 During the sunny season at Seadust, guests can enjoy a variety of adventurous activities outside including their popular zip line, climbing wall, mini golf and multifunctional courts. All this in addition to the large infinity pools and waterpark. You could say they have too much to offer, if that's even a thing.
All in all, Seadust Cancun Family Resort is a must for those getaways whether it be for a romantic getaway, girls weekend or family vacation. Enjoy sunshine, good food, fantastic views and memories to last a lifetime.
We really didn't know what to expect when embarking on this adventure, and now it seems like doing the all-inclusive option if available if a must for us. See you soon, Cancun!
#SEADUSTCANCUN
Facebook | Twitter | Instagram