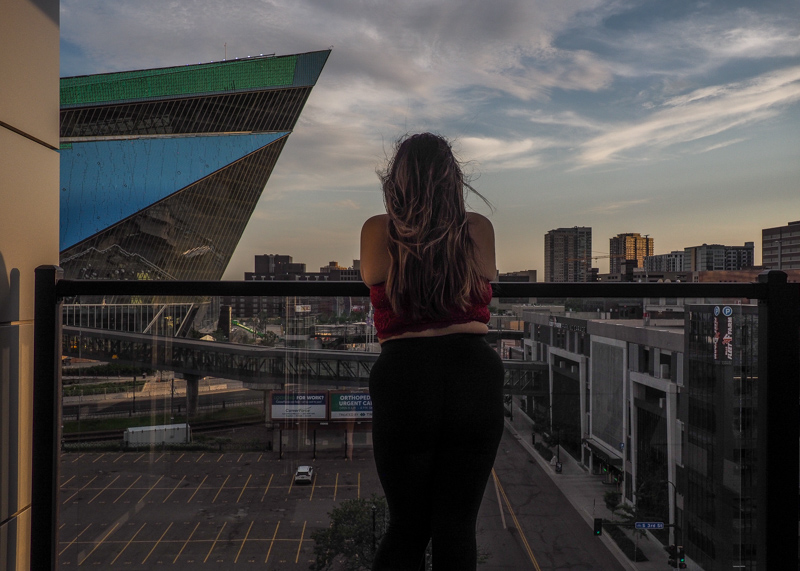 Marriott Bonvoy invites you to explore the Moxy in downtown Minneapolis! A new hotel-style geared towards a younger crowd, the Moxy is just right for any millennial wanting a hotel experience a bit more modern and in the thick of the city. There are two locations in the Minnesota metropolis, one for uptown and this one for downtown, and the spot couldn't have been better.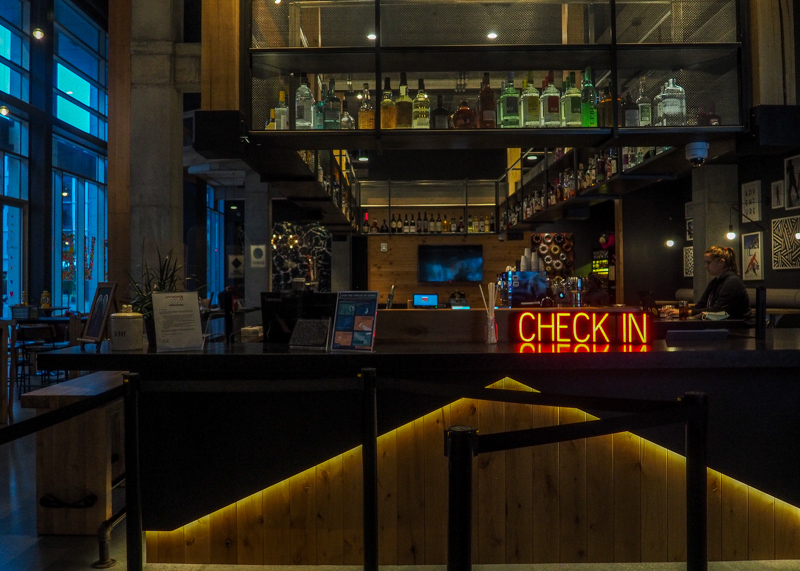 This location sits right off the freeway, so it's extremely easy to get to. Right across the street is US Bank Stadium, home to the National Football League team the Minnesota Vikings. It makes it a perfect place to stay if you're a football fan, or even just want a place to explore from. The Mississippi River is mere blocks away, as are numerous restaurants, bars, and parks. The brick exterior means that despite being a new building, it aesthetically fits right in with the old industrial look to this historic area of downtown Minneapolis.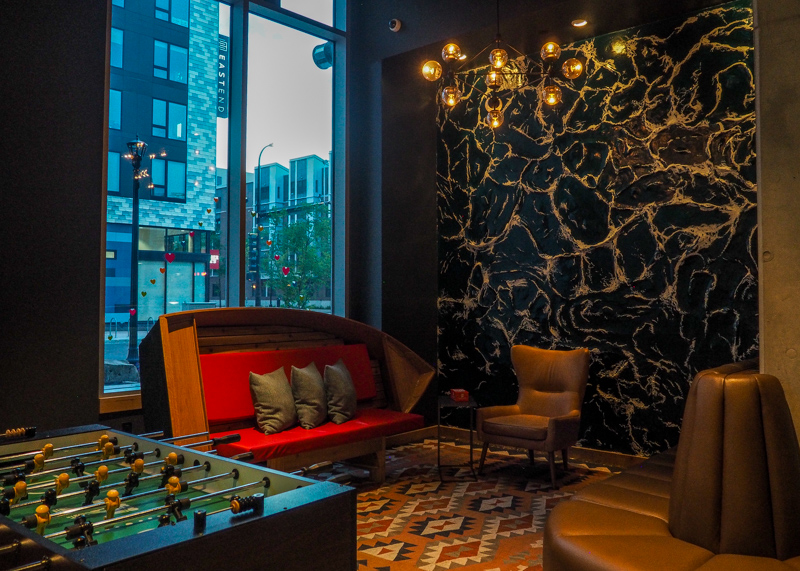 Due to the downtown location, Moxy Minneapolis partners with an underground parking garage that connects directly to the hotel entrance. For added security and comfort, a fee is required but provides a secure and convenient place to store your vehicle during your stay. The lobby is a hybrid check-in and bar area, so you can get a drink the moment you enter! Even better, you don't have to venture far from your room to find a bar.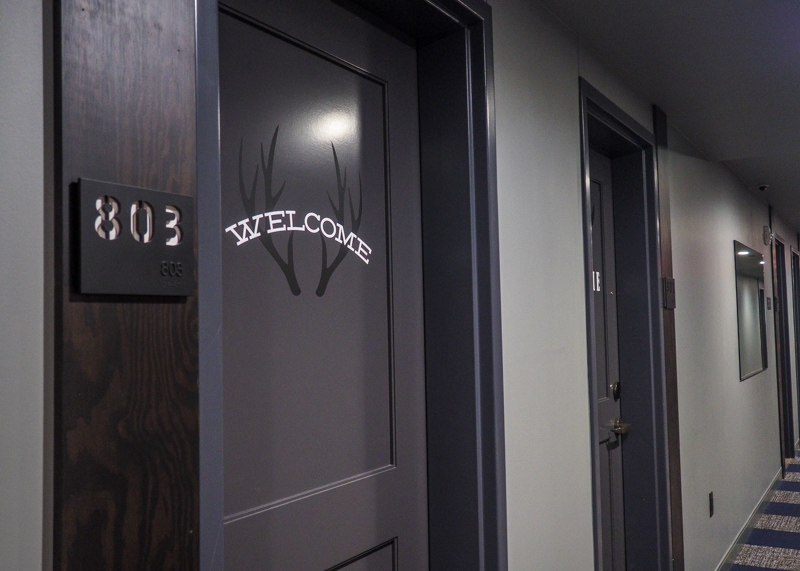 But it also doubles as a stupendous lounge area, with numerous comfy chairs to park yourself in as you sip your drink. There's also a Grab and Go food option should you be in a hurry, and both the bar and Grab and Go are available around the clock. So is the fitness center, in case you ever need to scratch that exercise itch.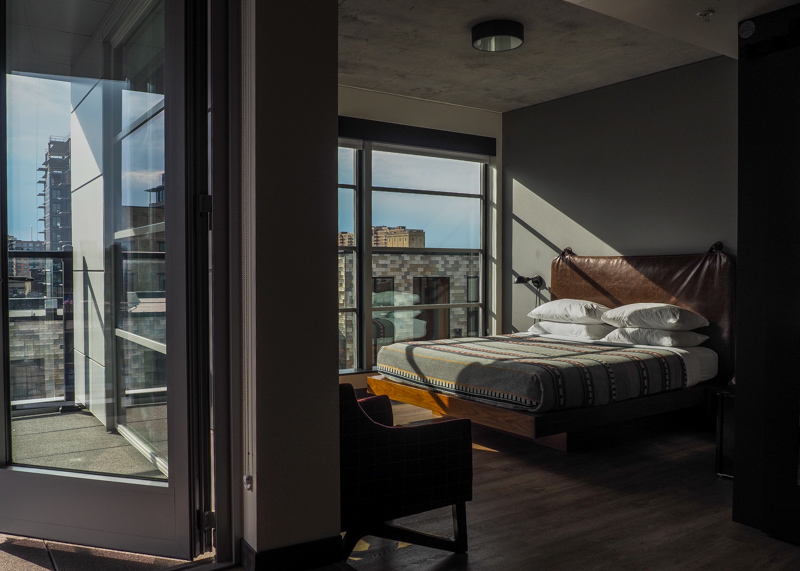 The rooms are designed with the idea of maximizing space, and they succeeded. Despite not being terribly big, the room takes advantage of every inch and feels large enough to keep you happy. The windows are large and spacious open-air style, augmented by our room's balcony, which overlooked the downtown offering a panoramic landscape and the Vikings Stadium. A small table and two chairs made for a relaxing and romantic environment to watch the sunset.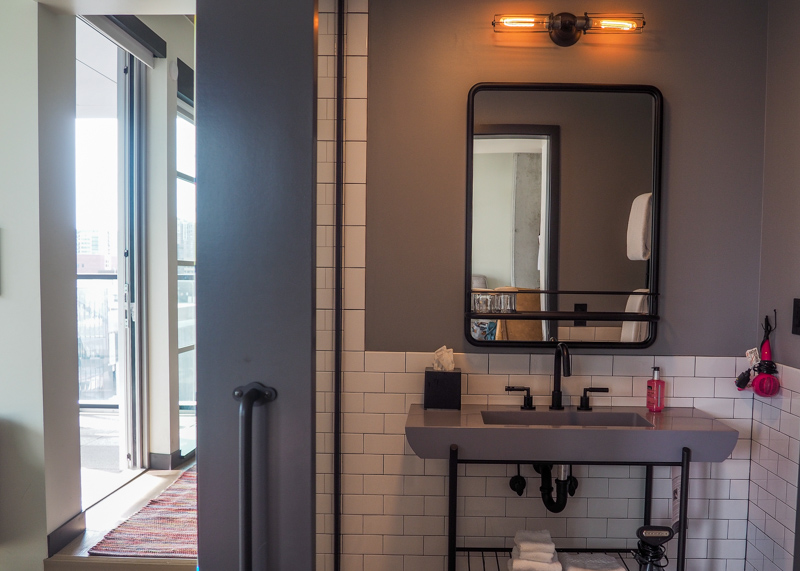 However, if you didn't want to venture outside, the expansive windows provide a solid view by themselves. Each window is viewable from the huge bed, so you don't even need to leave the comfort of your sleeping quarters. Squeezed between the windows is the TV with cable, and it's outfitted with special channels like Showtime and HBO that are complimentary with your stay. Along with the free WiFi, any guest will be fully entertained during their time here.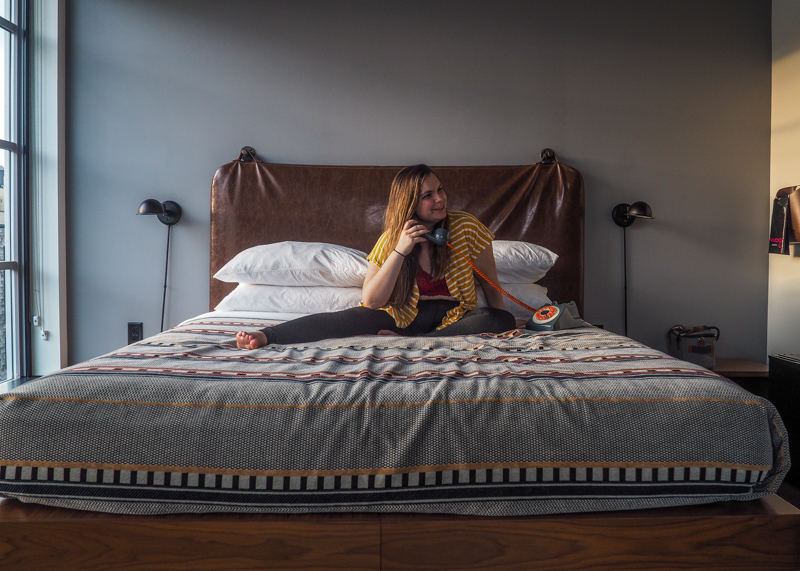 Huddle up, settle in, and get ready to relax if you care to venture to the Moxy in downtown Minneapolis. Minneapolis/St. Paul is one of the United States' biggest metropolitan areas, so a reliable hotel with a good location is a must. We couldn't have had a better time, and suggest you make your way there during your next vacation, and our NFL fans, don't forget to book a room next time you're catching a Vikings game and bring the win back to your quarters.