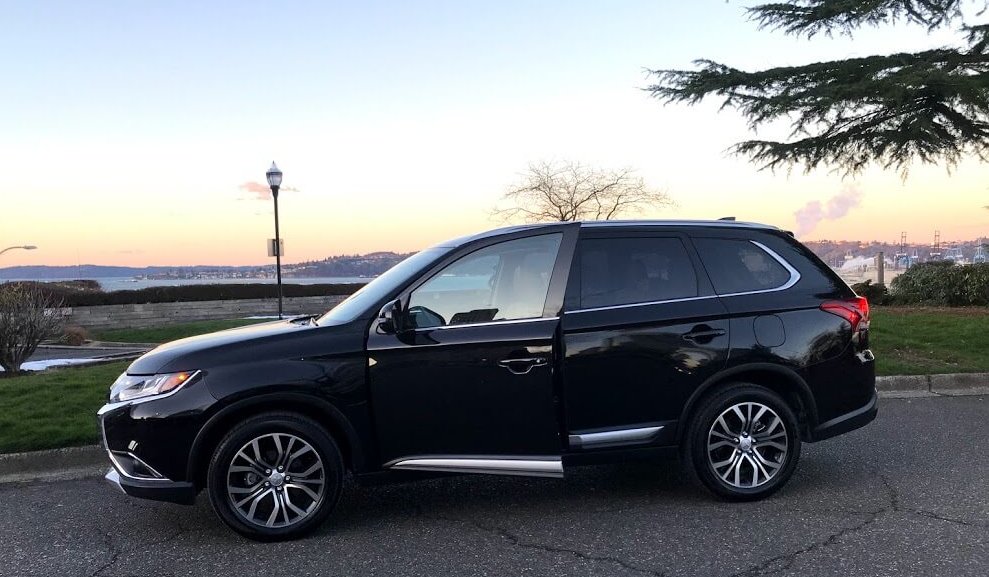 When this Hawaii girl moved to the mainland, I began taking road trips like it was part of my weekend routine. My car picked up those miles, but man, did I enjoy the feeling of that fresh air on my face. Most of all, the new cities, landmarks and sights. Living in the Pacific Northwest you've limitless to new adventures!
However, traveling in your car that you've had for 10 years can be a drag sometimes, especially when it loses that new car smell and feel.
That's why, when Mitsubishi reached out to us to check out their new 2018 Outlander SEL for the week, we planned a roadtrip to Portland to check out the sights and take advantage of driving around town in style.
When the Mitsubishi Outlander showed up at my doorstep, I was in awe. I loved the slick black look to it and boy it was shiny. The inside was decked out in tan leather seats, equipped with a sunroof and three rows of seats to take the whole family. This car wasn't too big either, it was pretty compact for an SUV but has tons of space for storage and leg room for all guests, even if a third row was up.
My first glance, left me wanting to take this baby for a spin and get to see what it was all about. Once 4pm hit, I drove my fancy Outlander to the University to pick up my man, and we hit the road to Portland. One of the things he first noticed was that SiriusXM was installed and had MLB Network Radio! If you aren't aware, we are huge baseball fans, and one thing that local radio lacks is a 24hr baseball radio. So, you could say we were on top of the world.
At first, it took me a bit to figure out why my car kept beeping at me, but I quickly learned that this 2018 Push-to-Start Outlander is jam-packed with safety features! For example, and probably one of my favorite, is when you are driving and attempting to switch lanes, simply put on your blinker, as you usually would and if there is a car in close proximity to you, in the lane you want to switch over it will beep to alert you. Also, there are light indicators on the right and left side mirrors that flash when you have a passing car in the lane you want to move over to.
This feature (Blind Spot Warning (BSW) with Rear Cross Traffic Alert (RCTA) and Lane Change Assist (LCA)) not only prevents you from having to turn your head halfway to the back of the car to see if oncoming cars are approaching, but it also helps keep you aware of what is directly on the side of you.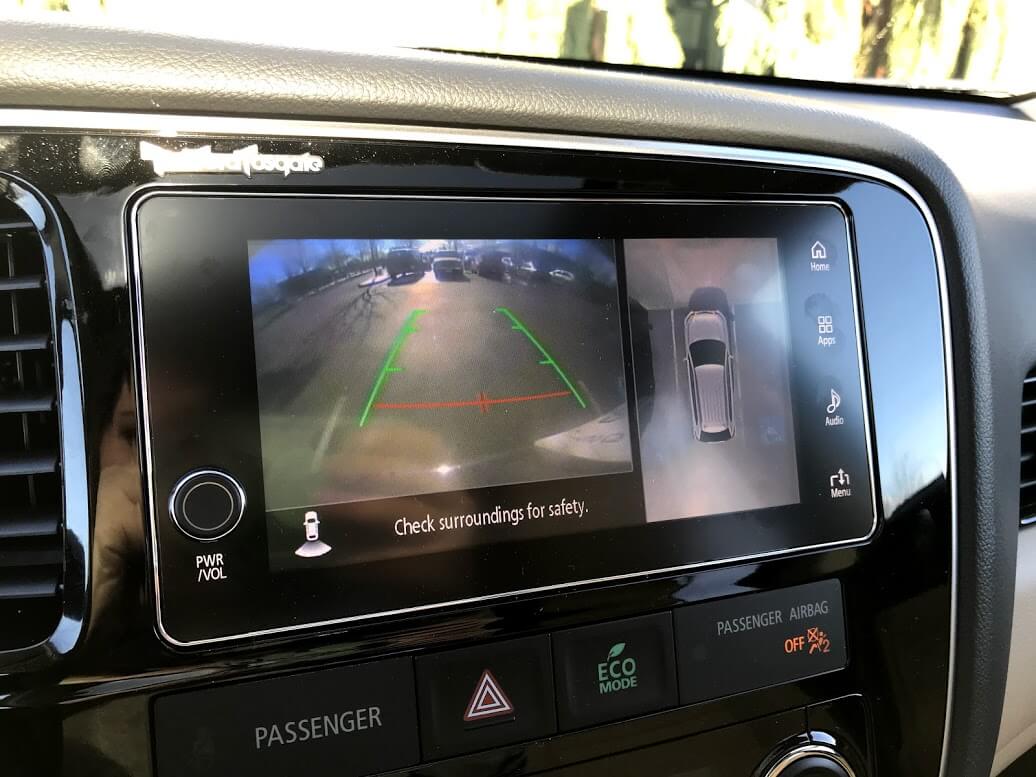 Another, excellent feature that I've personally never seen or even heard of is the 360 degree rearview camera. In addition to the lovely rearview camera that many of us have learned to love and depend on. This Outlander has a 360 degree mode that pops up right next to your rearview camera that allows you to see what your car looks like from a birds eye view. Pretty neat right! Lastly, another fun and very useful feature is the rearview mirror auto dimmer, which prevents cars highlights from beaming in your eyes during night driving. Let me tell you about how annoying and distracting that can be.. Apparently, the rearview mirror is integrated with Homelink, for those homeowners with garage doors. We didn't get to test out this fancy tool, but it's neat to know it's there.
The 2018 Outlander, has many new and basic safety and convenience features to keep you not only feeling confident, but comfortable on the roads. I must admit, I was pretty sad when my trial week was over and I had to return the car to Mitsubishi.
However, we are in the market for a car in the near future, and this Outlander is definitely on the top of our list. Whether you are in the market or just want to hear about these fancy new features that Mitsubishi has to offer, I recommend you to look into the 2018 Mitsubishi Outlander at your local dealership.

Some of our favorite features
Blind Spot Warning / Rear Cross Traffic Alert
Lane Change Assist
Rearview, 360 degree camera
Great entertainment system

SiriusXM
Bluetooth wireless
Apple CarPlay, Android Auto

Sunroof
Heated seats, heated steering wheel
Push to Start
Automatic hatch open and close
Auto dimming rearview mirror
Specifications
PowerTrain Limited Warranty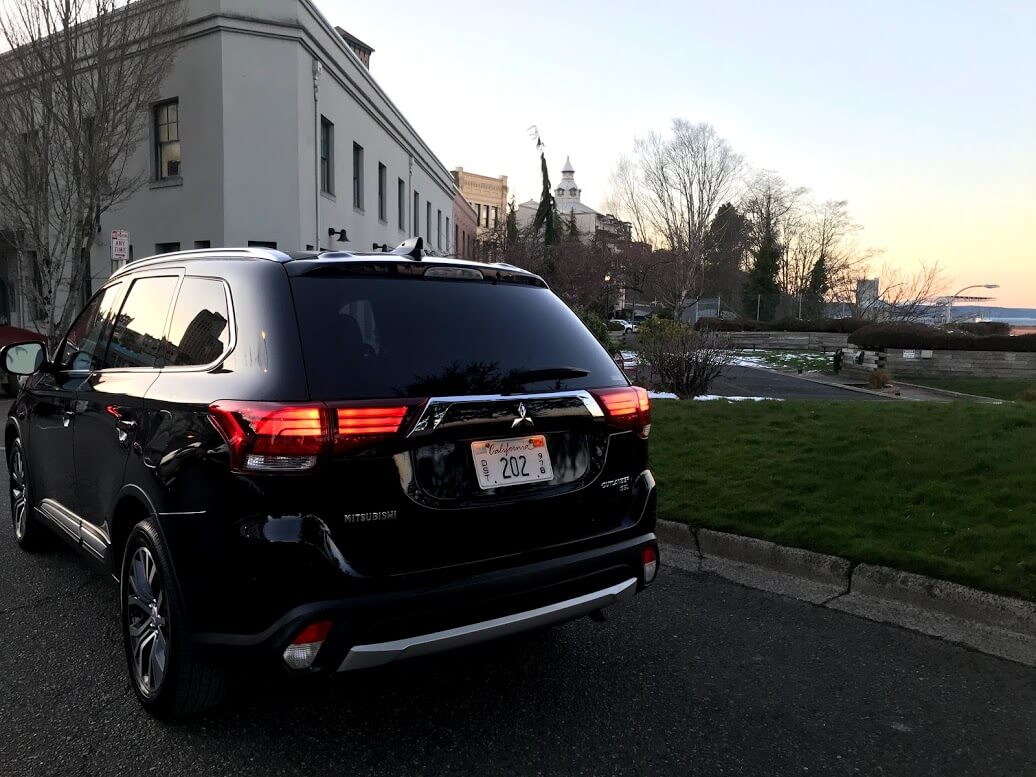 Full Features List
Mechanical Features
166-hp, 2.4-liter MIVEC 4-cylinder engine
Continuously Variable Transmission (CVT)
Front-Wheel Drive (FWD)
Electric power steering
Exterior Features
Halogen headlights
Auto on/off headlights
Fog lights
LED positioning lights
LED rear combination tail lights
Color-keyed front and rear bumpers
Interior Features
Color multi-information display
High-contrast meters
Dual-visor vanity mirrors with illumination
Front map lights
Front courtesy floor lights
Center dome light
Convenience Features
7.0″ Smartphone Link Display Audio (SDA) System
Digital HD Radio®
AM/FM audio system
Six speakers
Steering wheel audio controls
Steering wheel phone controls
Steering wheel voice controls
Dual USB ports
Safety & Security
Hill Start Assist (HSA)
Anti-lock Braking System (ABS) with Electronic Brakeforce Distribution (EBD) and Brake Assist (BA)
Active Stability Control (ASC)
Traction Control Logic (TCL)
Tire Pressure Monitoring System (TPMS)
7 standard airbags including drivers knee airbag
Front seat-mounted side airbags
Driver's knee airbag
You can find more features and detailed specs along with price and dealership info at www.mitsubishicars.com/outlander/2018/.
Huge thanks to Mitsubishi for partnering with us to share the word about the new 2018 Outlander.
Follow #DriveMitsubishi
Facebook / Twitter / Instagram