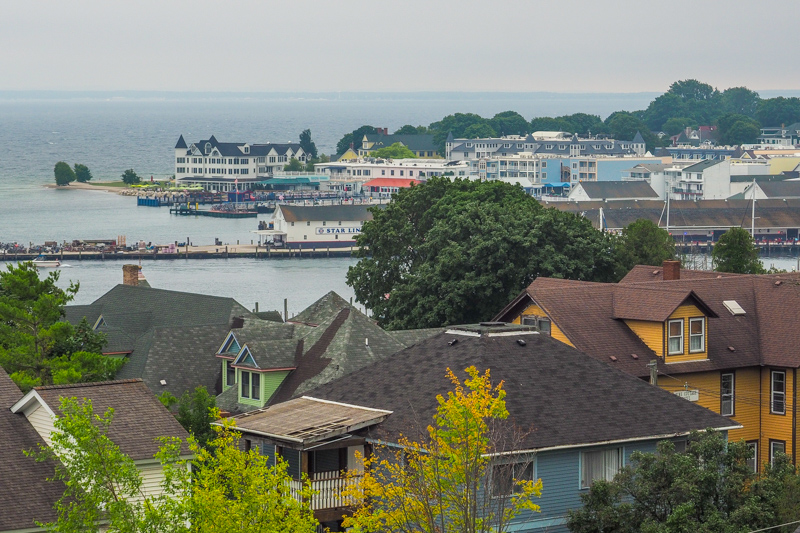 Nestled between Michigan's Upper and Lower Peninsula sits an island. Said to be discovered in the late 1600s, Mackinac Island today remains an island unlike most and a quick 15-minute ferry ride will blast you to what seems like 200 years ago. Upon stepping off the ferry and onto the Island, you're instantly greeted by horse carriages, lush greenery, and historic architecture at every street corner.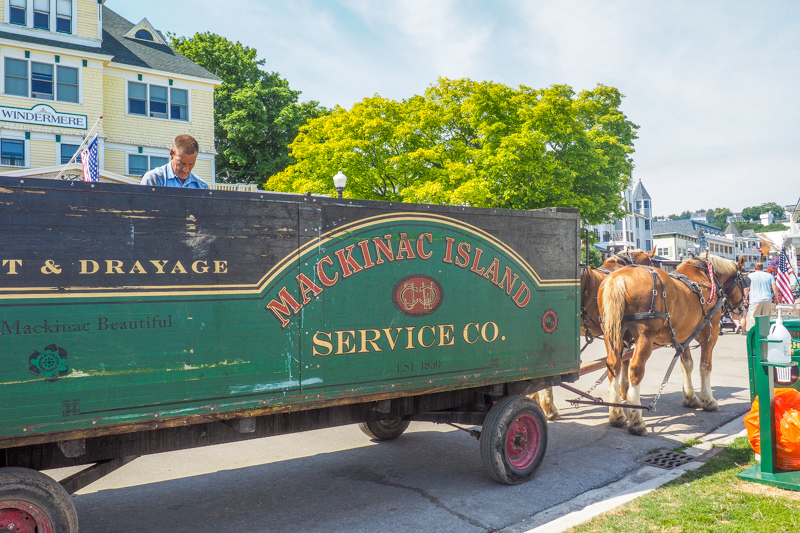 Covering a little over 4 square miles of land area, summer visitors and residents rely solely on horse-drawn carriages, bicycles, and foot walking for transportation. The use of motorized vehicles on the Island was prohibited in the late 1800s. Finding lodging on the Island can be tricky if you don't have a reservation ahead of time, since the island is only operational during the summer months, making it a hot destination for visitors around the world. However, there are dozens of lodging options including our favorite the Mission Point Resort.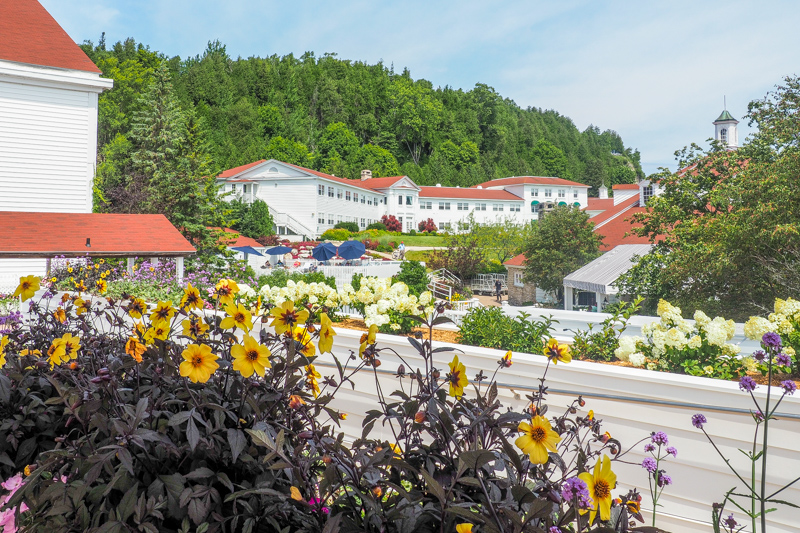 Mission Point Resort is located on the southeastern shoreline of Mackinac Island, and in 1987, opened its doors to their first resort guests. The resort boasts quite the property size, including an expansive beachfront lawn which includes an outdoor restaurant, Bistro on the Green, and an 18 hole mini-golf course.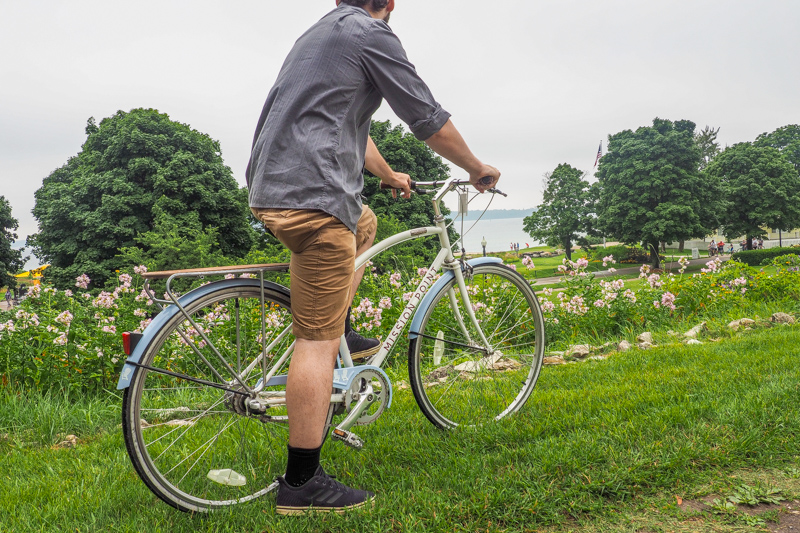 The resort sits alongside the bicycle trail that circles around the island. With an array of scenic backdrops and architecture, Mission Point Resort has been the home of several entertainment projects, including Universal Pictures 1980's "Somewhere in Time" starring Christopher Reeve, and a Syfy "Ghost Hunters" episode in 2011.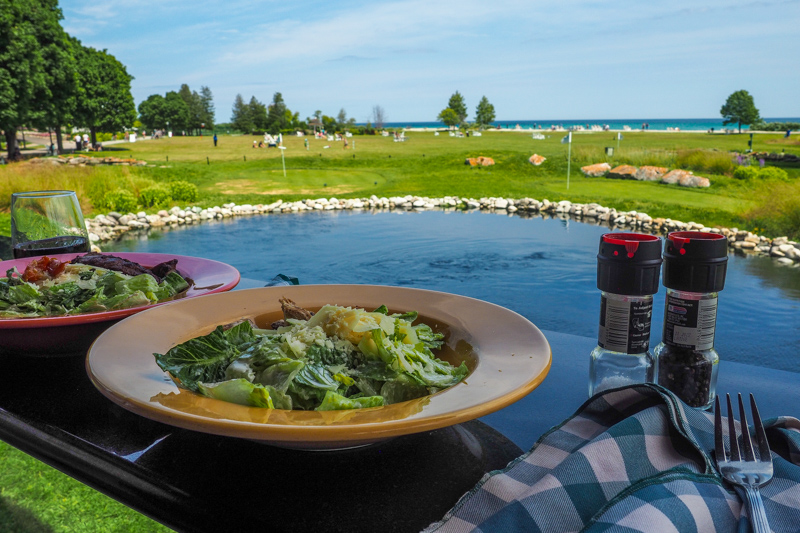 Offering something for everyone, and their pets too, Mission Point Resort has two main lodging options to choose from. Since Mission Point is situated on the hillside, the resort includes panoramic views from almost every seat in the house.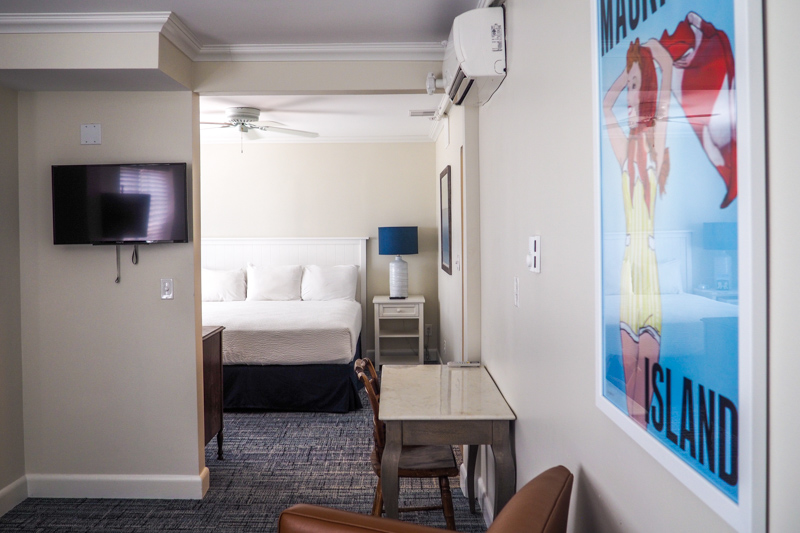 The Main Lodge sits right in the heart of the resort, while their Straits Lodge is tucked away a few minutes from the Main Lodge, and provides a more private and spacious getaway. Buildings in both locations have been recently upgraded and options range from cozy rooms to spacious suites, some of which include a full kitchen and private hot tubs.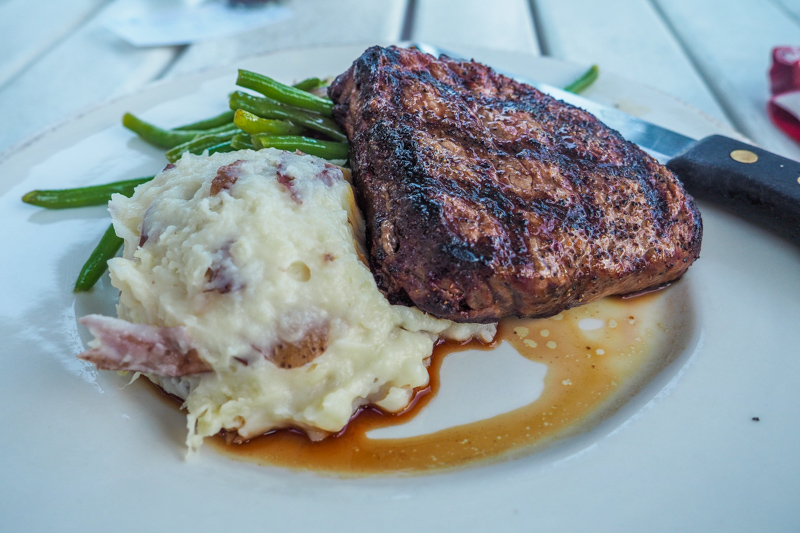 In addition to their room variety, Mission Point has numerous dining options open for breakfast, lunch, and dinner, including a grab-and-go shop for those wishing for a picnic on the lawn. Round Island Bar and Grill is their all-day restaurant and sits in the lobby of the Main Lodge. Favorite bites such as their famous whitefish dip with wonton chips are available, along with an array of local meat, sandwich, and salad options.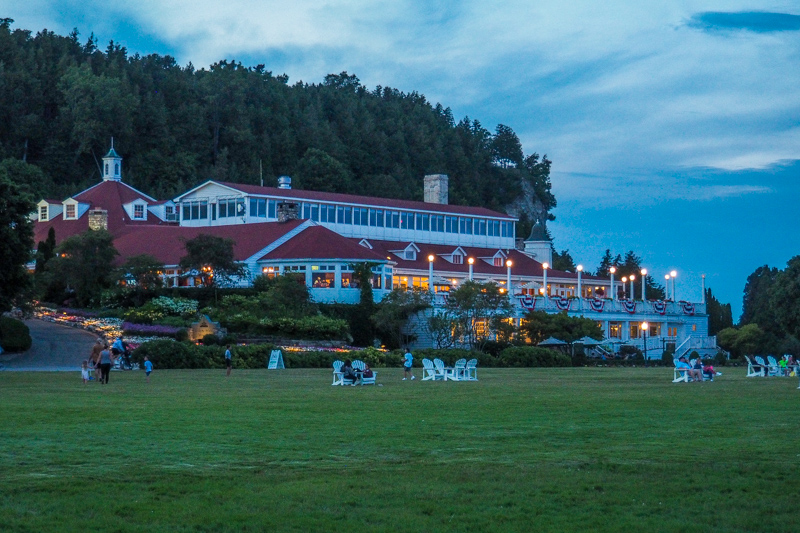 Aside from rooms and dining, Mission Point has dozens of activities to keep guests of all ages busy. Starting with their spacious pool with two outdoor hot tubs tucked next to the lobby in the Main Lodge, you'll never be without a nice break from the hot sunshine.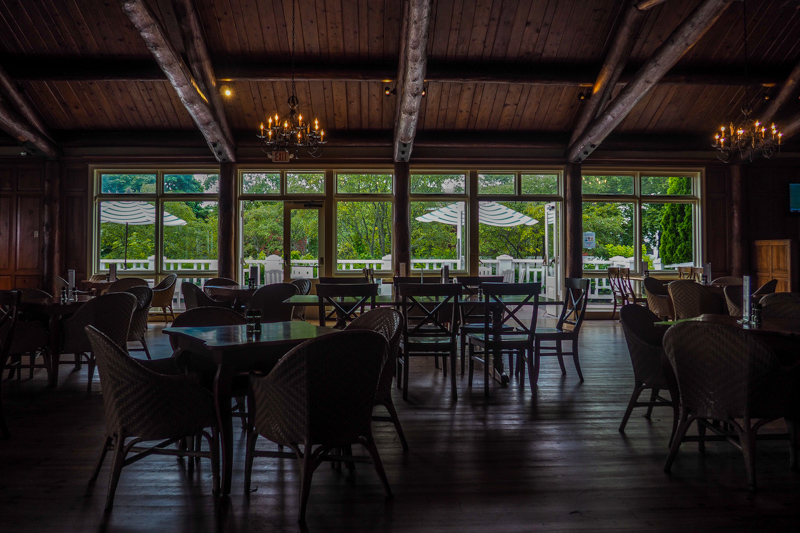 Continue up the stairway past the pool and you'll find their recently opened outdoor promenade deck, which will be home to future outdoor events from live entertainment to weddings. Across the deck is Lakeside Spa and Salon, which offers a full spa and salon menu. They're primarily known for their Lilac Body Treatment, which includes a massage in all the right places and is topped with lilac essential oils. The Lakeside Spa is a must-stop when staying at or visiting the grounds of Mission Point Resort, as no getaway is truly a getaway without a spa treatment.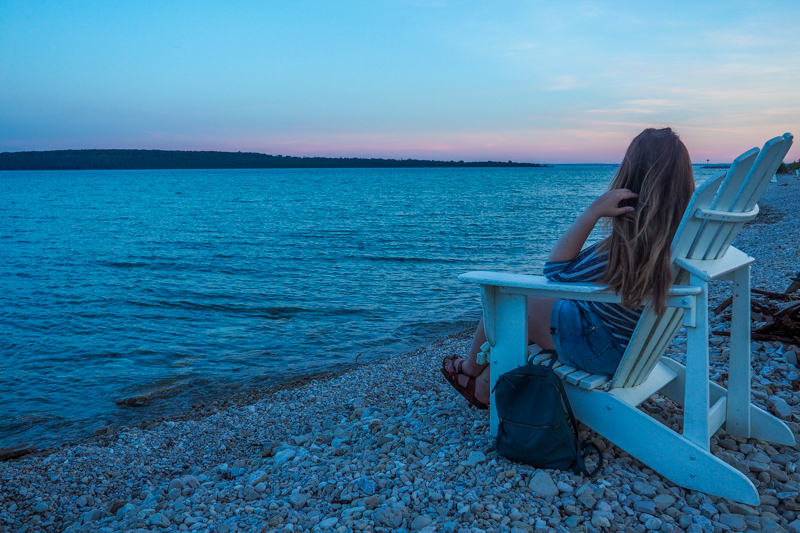 Next to the promenade deck is the Mission Point Resort bike rental stand, which offers half-day and full-day rentals of all bicycle types from singles and two-seaters to tag-along. Continuing down the pathway, you'll come across a Kid's Club and Arcade. Across the way, a small theatre, which in partnership with the Mackinac Art Council, plays local movies filmed on Mackinac Island twice weekly.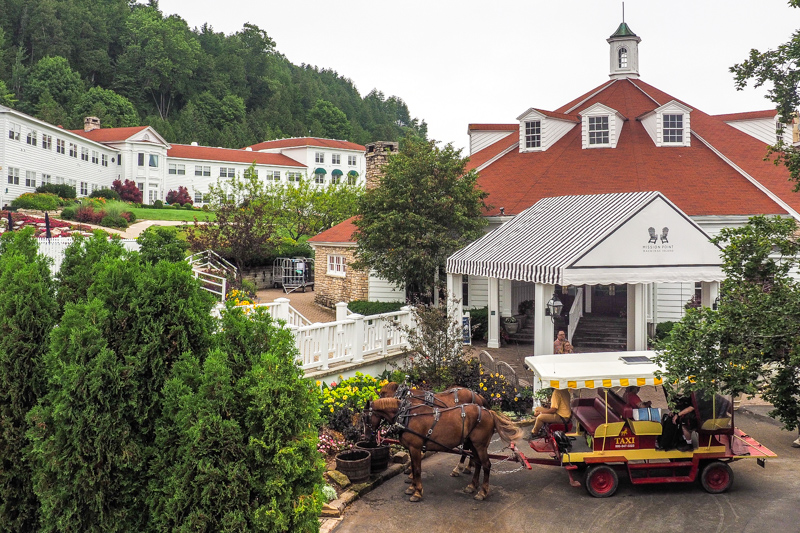 Shortly after the Mission Point Resort theater, the path will lead you to the Straits Lodge, and for those wanting to continue the adventure, the path will take you to downtown Mackinac Island or Fort Mackinac. Fort Mackinac is one of the oldest sites on the Island and was once home to both British and American soldiers during the American Revolutionary War and the War of 1812. Today, it serves as a heritage tourist destination and museum to share the stories and history of the Island and Fort.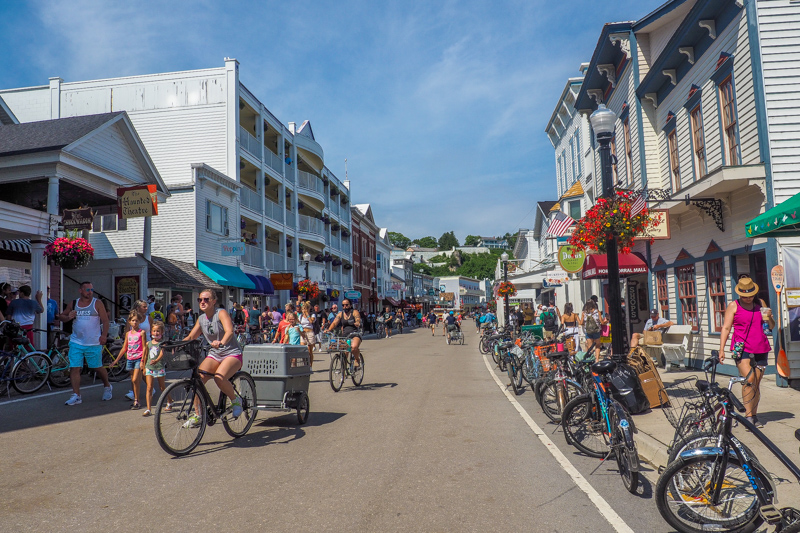 Mackinac Island is by no standard your typical getaway. This island gets one to appreciate the beauty of nature, and the peace away from the normal hustle and bustle of the Mainland. The downtown area of Mackinac Island provides shops and restaurants for every occasion, including a significant amount of Mackinac-made fudge shops.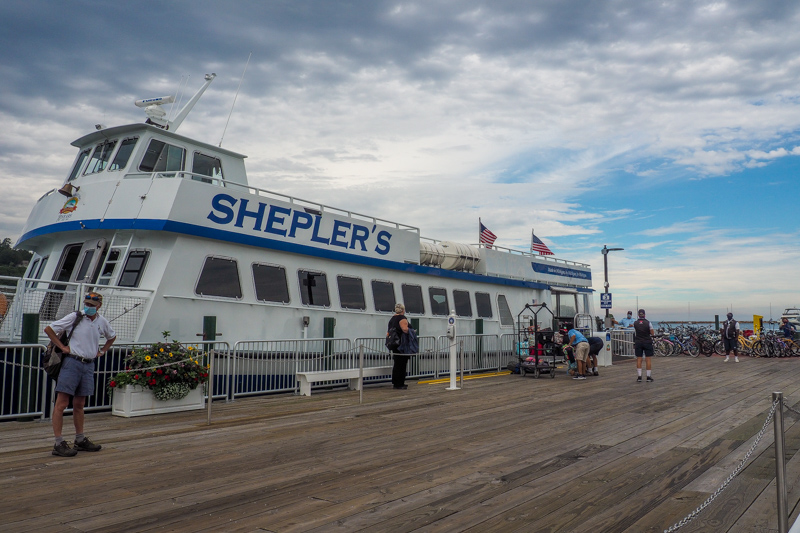 After all, your visit to Mackinac Island wouldn't be complete without some fudge for you and the family. In conclusion, a retreat to Mackinac Island, paired with a stay at Mission Point Resort, is one we plan to make a summer tradition, and a tradition we look forward to sharing with our children for years to come.
Follow Mission Point Resort
Follow Mackinac Island Tourism