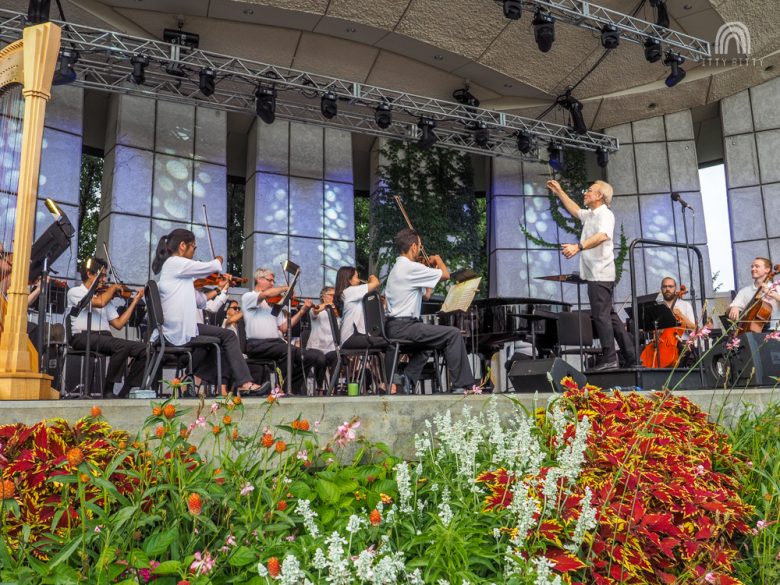 The long-awaited Frederik Meijer Gardens & Sculpture Park summer concerts are back in full swing. Preservation Hall Jazz Band along with the Grand Rapids Symphony kicked off opening night on Sunday. On Thursday night, the Symphony was back with a collection by famous movie composers, including hits from John Williams. As the crowds made their way into the recently renovated amphitheater, our family of three found ourselves a comfortable end seat, as we prepared for our 4-month-old daughter Bea's first-ever concert.
Last year when we found out the news that we were expecting, we knew we didn't want to stop our enjoyment of travel and entertainment. However, often with children, comes a life full of uncertainties and being prepared to change plans at the drop of a hat. Yet, we kept an open mind and arrived prepared with gadgets and a comfy resting area for Bea.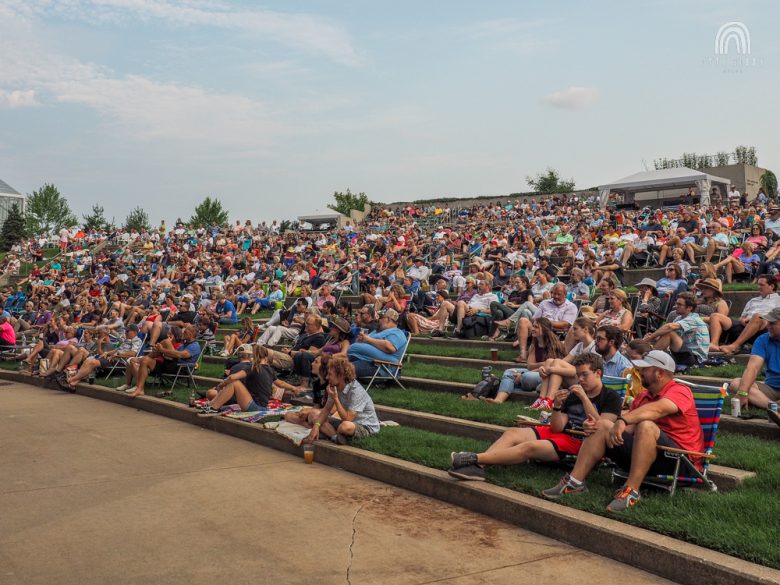 At 7:30, the Grand Rapids Symphony took the stage and quickly filled the grounds of the Frederick Meijer Gardens with sweet music. We weren't surprised when our little one started swaying to the beat as daddy helped her along. Thanks to Conductor Bob Bernhardt, who seamlessly brought the gardens and audience to life, the symphony played music from Star Wars, Indiana Jones, Titanic, Jurassic Park, and more.
After a year of social distancing, it seemed surreal to gather again. Something that was a regular part of our lives quickly became obsolete during the pandemic. The laughter, smiles, and enjoyment that filled the gardens on Thursday night warmed my heart. We needed this. The world needed this. Last year, the Fifth Third Bank Summer Concerts were canceled, and with it being our first year in Michigan, it was tough to not have that opportunity to enjoy our first Michigan summer. Thankfully, this year, we are starting to see what it's all about.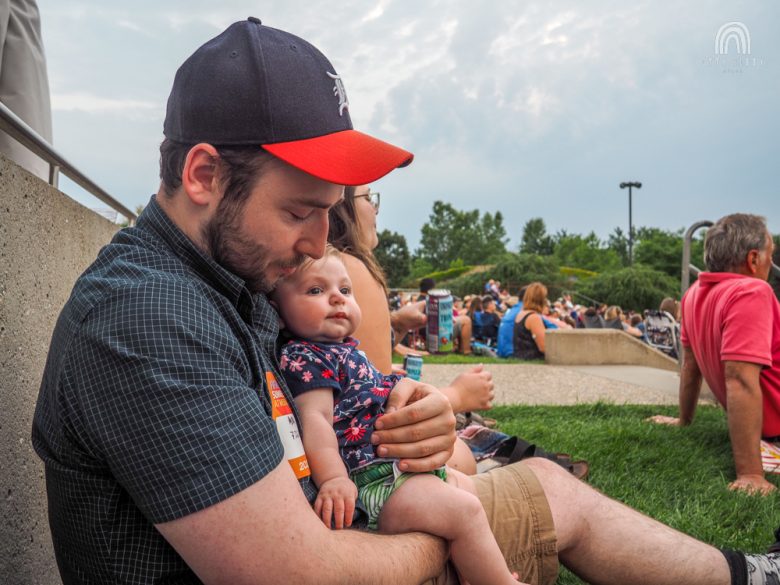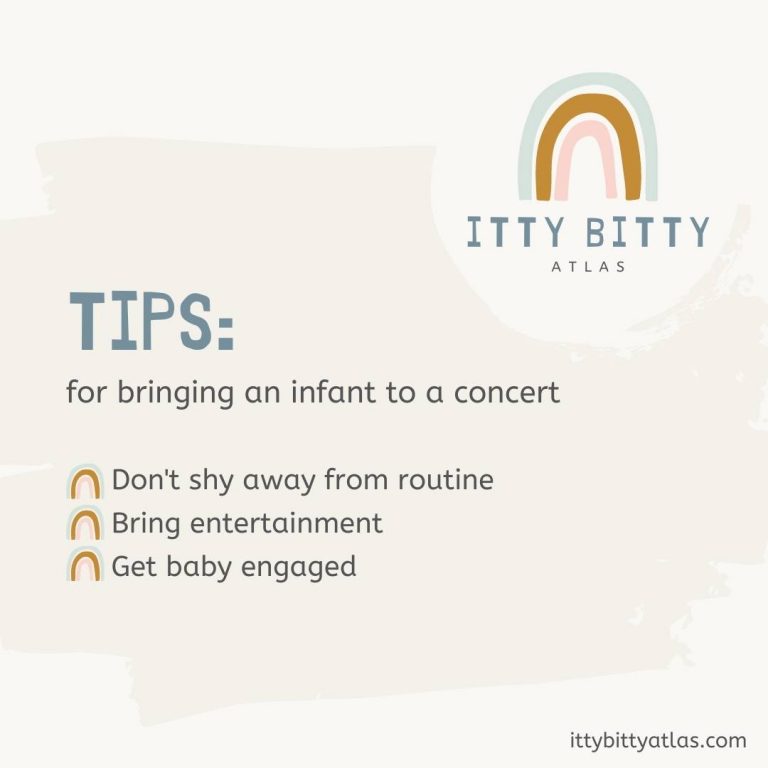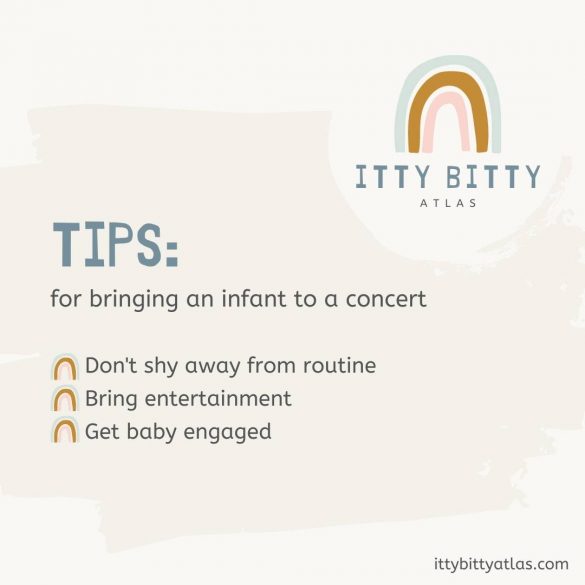 Things to keep in mind when bringing an infant to a concert:
It's important to keep any routine you have in check. If it's a night event and will interfere with baby's bedtime, bring everything you need to keep that routine.
Just because you are dealing with an infant and not a toddler, doesn't mean you shouldn't bring some source of entertainment for them. It's important for your baby to have something to keep their hands busy!
Music is excellant for children's development and with a live concert you get the best of the best. Help your baby move to the beat and get them engaged! And an engaged baby leads to a tired baby, which can help get them ready for nap time.
Things we recommend to purchase:
Before we knew it we had reached intermission, meaning the first half of the concert was over. The couple next to us peeked over to a smiling Bea, and were surprised she wasn't sleeping. We had successfully made it through the first half of the show without any interruptions and were a bit anxious for the second half as her bedtime neared. We kept in mind the many tips we read about traveling with a baby in tow, like tip number 342: don't change the schedule! This meant, even though we are were out and about, we had to keep Bea's schedule in check, which means diaper change, lotion, feeding, and blackout.
It probably sounds simpler than it is, as the nighttime routine was a bit different than usual. However, we are pleasantly surprised to share that no more than a couple of whines were made before our little one was down for the count. A little after 9:30, the Symphony was wrapping up their final hurrah and we took a sigh of relief as we successfully made it through Bea's first concert, but more importantly, we made it to the end of the show. As we packed and headed to the car, we noticed a handful of other parents making their way out with sleeping babies in tow. It was great to see so many parents not only appreciate the importance of childhood music development but also taking the chance to enjoy a concert under the stars as a family.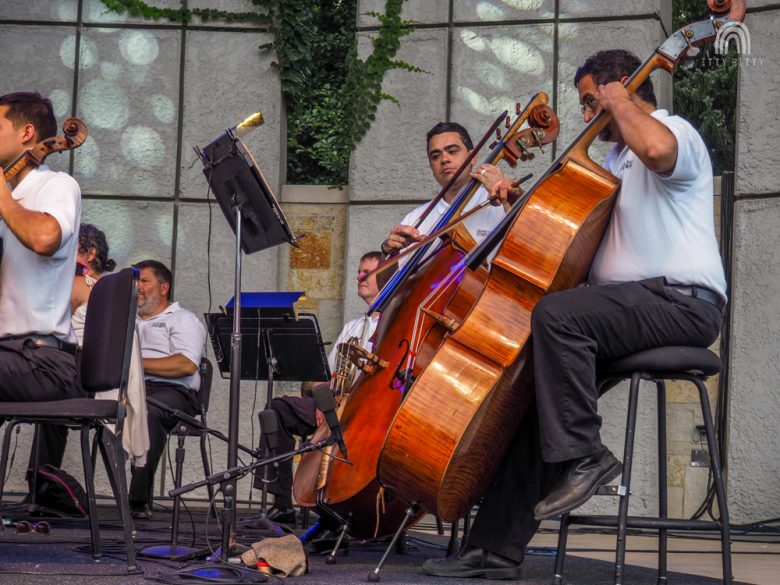 The Fifth Third Bank Summer Concerts at Meijer Gardens make for the ultimate family event and the concerts are far from over. Although many of the more popular shows like the Beach Boys, Pat Benatar, and Trombone Shorty are sold out, there are still more that have space and may be more ideal for a family rendezvous. And on July 29, the Grand Rapids Symphony will be back, alongside Pink Martini. If you're interested in a smaller event, be sure to check out Tuesday Evening Music Club at 7 pm, which brings talented local and regional musicians and cultural organizations to the Amphitheater stage. Tickets are free for members of the Gardens and are included in admission for other guests, which makes for the perfect outing — a stroll through the park, followed by some evening music.
All in all, I'd say our first concert with itty bitty Bea in tow was a success and I can't recommend it more. The Meijer Gardens is a beautiful venue centrally located in Grand Rapids. The Amphitheater is spacious, ADA accessible, and well-maintained, which makes an ideal setting for a family event. Additionally, family restrooms are located next to the concession stands, which are near the entrance to the Amphitheater, a must when traveling with an infant.