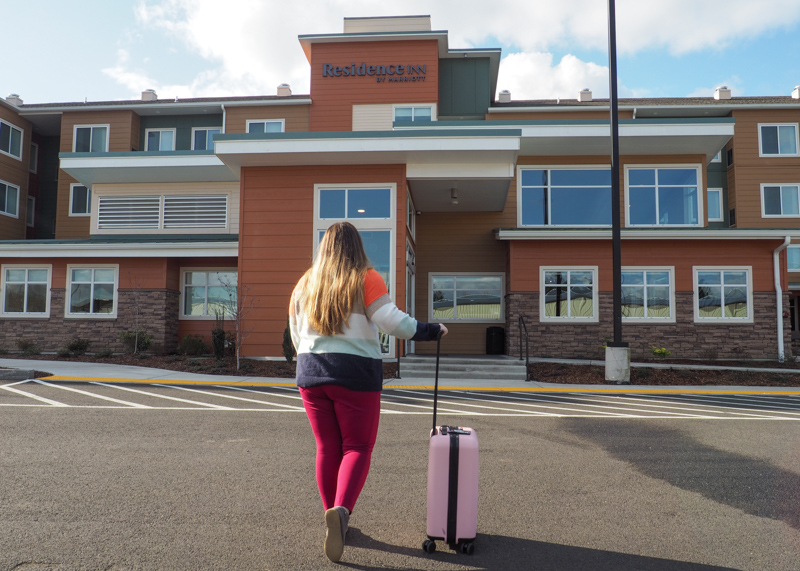 The Residence Inn by Marriott Portland Vancouver beckons to all who want a comfortable stay in a home away from home. This new property features beautiful exterior and comforting rooms inside make for a premier stop in the Portland metropolitan area. The hotel sits in a secluded section of Vancouver, just off of Interstate 5 and Interstate 205, and under 10 minutes to Northeast Portland and the Airport.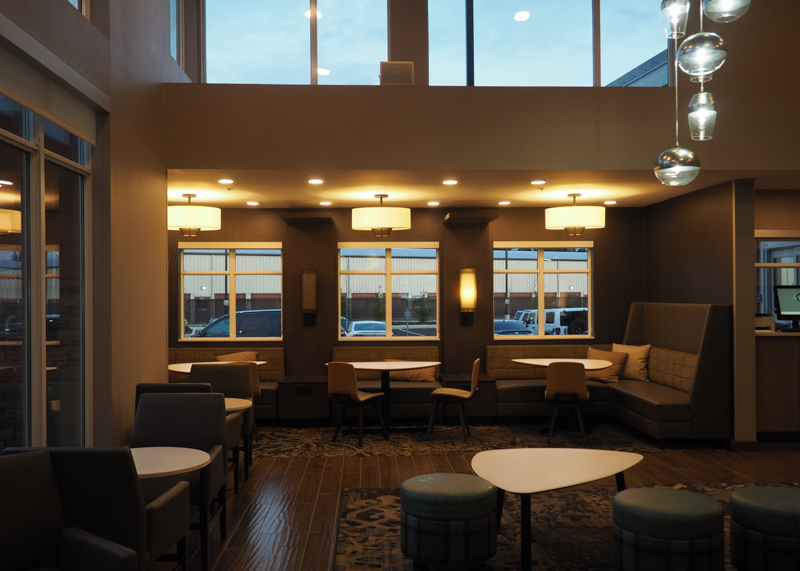 The lobby is welcoming, dominated with white walls and built around a decadent blue fireplace and TV. There are plenty of couches or seats around and a public access computer terminal, so you can get business done if you didn't bring a laptop.
However, if you do have a device, WiFi is complimentary for guests. Next to the front desk is 'The Market,' a small convenience store area where you can grab small food and drink items for sale. It's perfect for any guest wanting a simple snack, or needing something to grab on the go.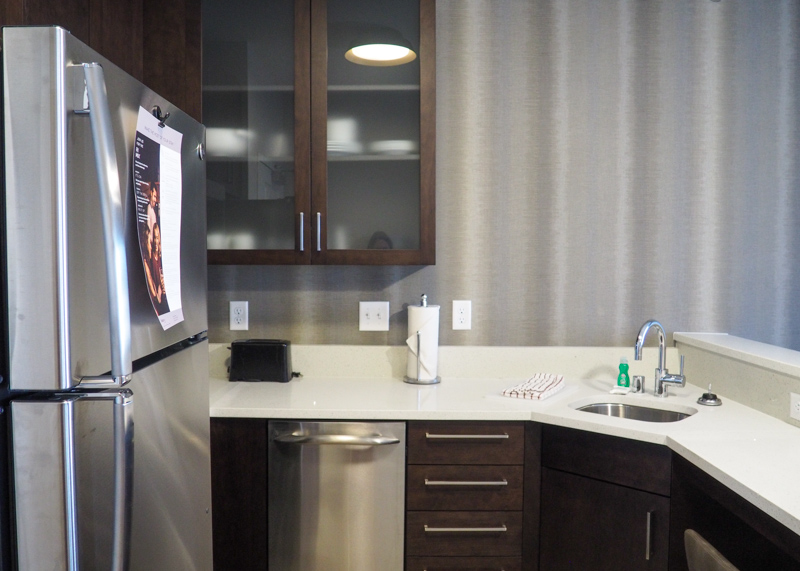 The rooms, however, are designed to make you feel at home, with a full kitchen upon entering that makes it easy to live in. A refrigerator, dishwasher, sink, stocked cabinets, stovetop, and microwave allow you to prepare virtually whatever you like for a party of any size.
The layout of the room makes it feel like a roomy studio space in such a small radius. A living area with a rotatable TV with cable sits next to the bed so that you can watch from the comfort of your couch or the bed. The bed are highly comfortable and are situated next to the closet and bathroom, which are tucked in a nook behind a wall so that you always have privacy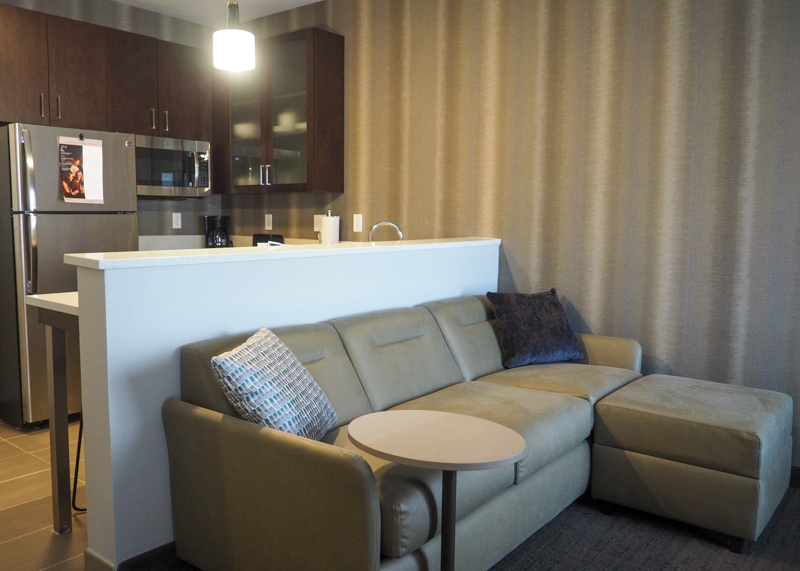 Fixing anything to eat is convenient with the full kitchen, and with grocery stops within a few minutes away it's a breeze, but if you don't care to make a meal in the morning there's a free breakfast buffet for all guests. Eggs, sausage, bacon, cereal, waffles, you name it, they have it. They also have a pretty neat topping bar with chocolate, marshmallows, sprinkles and more for the waffles.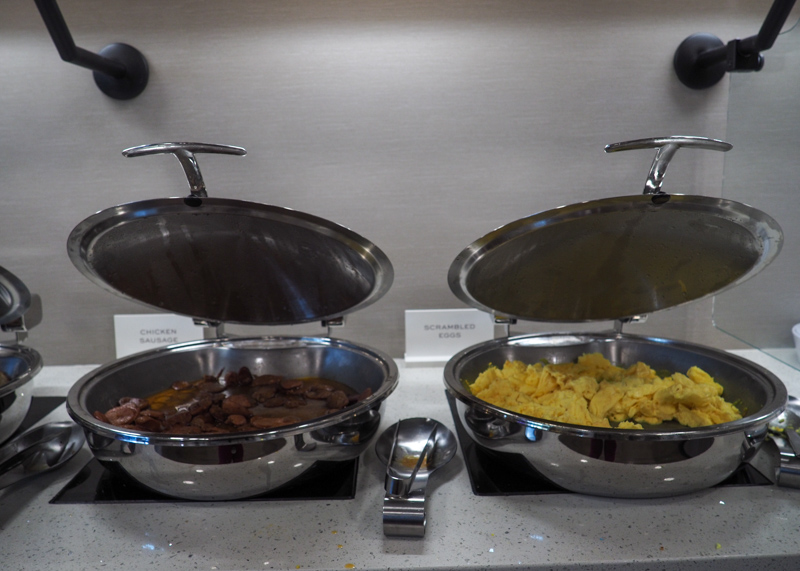 Adjacent to the lobby is the indoor pool, a massively refreshing area after spending a day touring the city. Outside is a patio area with deck chairs surrounded by a fire pit, so if there's good weather outside you don't have to feel cooped up not enjoying the sun.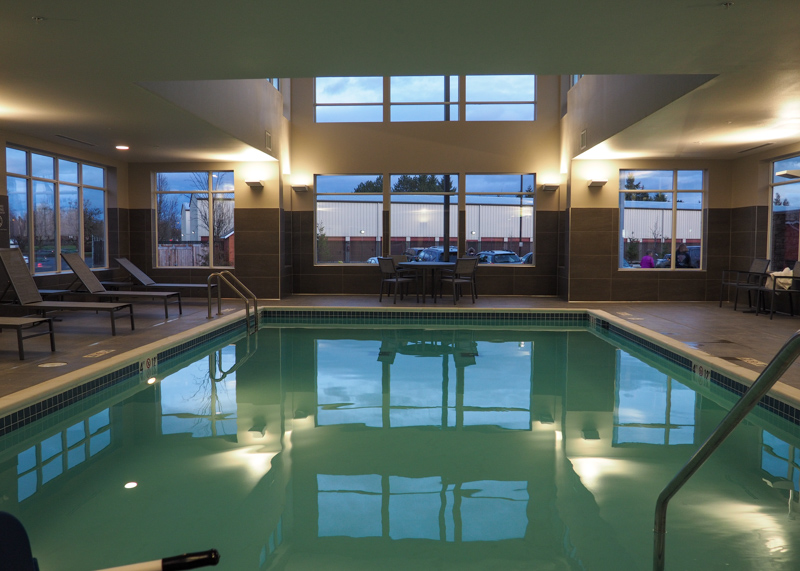 For anyone needing a hotel that caters to your needs and feels like another home, the Residence Inn Portland Vancouver is a great place to stay. Get all the comforts of luxury while never being more than a few minutes' drive away from downtown Portland.