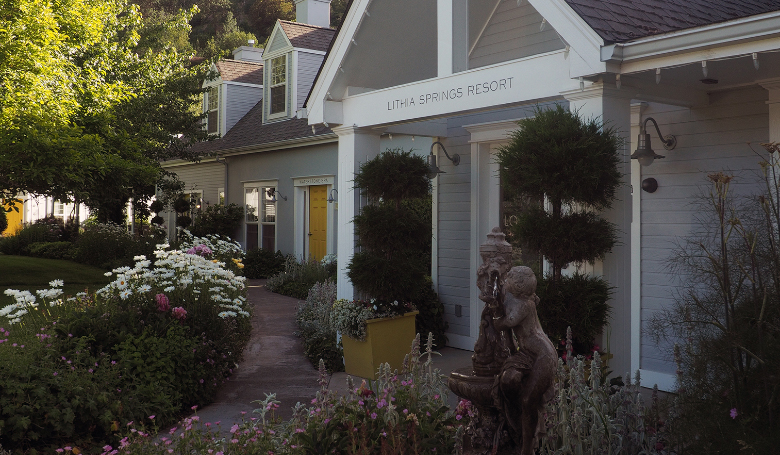 Sitting just at the entrance to Ashland, and a mere 7 minute drive from the famous Oregon Shakespeare Festival, the Lithia Springs Resort is the perfect spot to stay while attending one of the nation's best showcases of the Bard's work.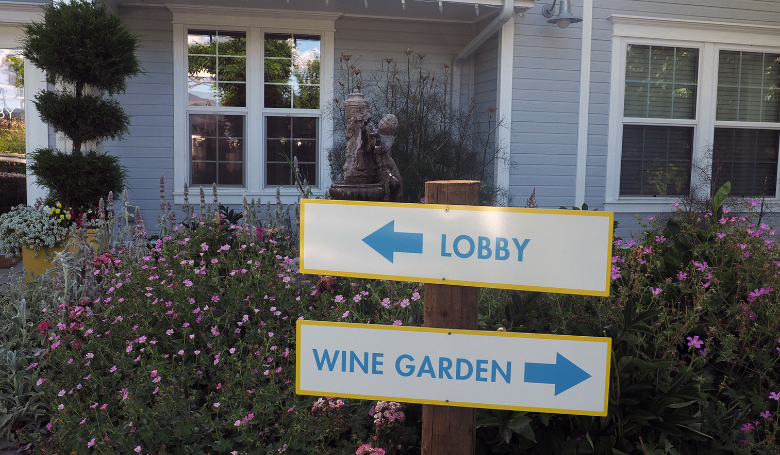 The picturesque surroundings give the property a unique neighborhood atmosphere. The Resort offers several lodging accommodations from studios to suites, so you can get whatever suits your fancy.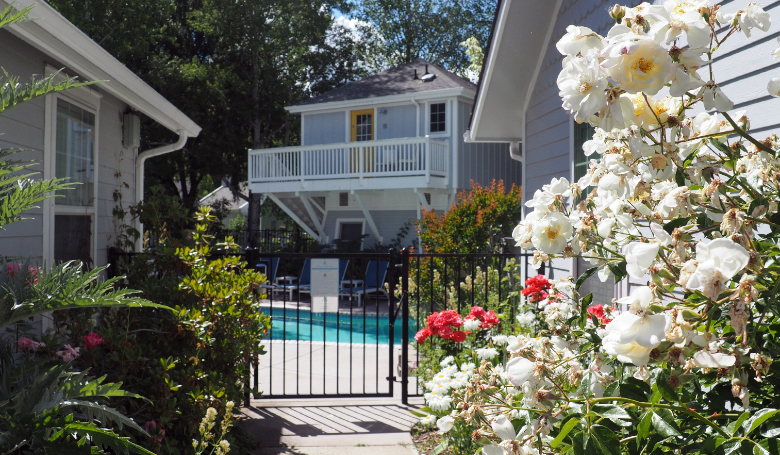 The resort grounds themselves are something you could spend hours just wandering through. With gardens, ponds and wildlife, it makes for a serene ambiance you wouldn't normally get from other properties. New this year is a wine garden located just outside the lobby, and offers wine tastings from different local wineries. Sit back, relax and enjoy some tastings all in the comfort of your resort.
Since it was just the two of us, we opted in for a lovely patio bungalow, which sits next to the saline pool and hot tub and offers a private patio facing out to the parking lot. Situated around a small gazebo in the center, these units feel more like a studio home than a hotel.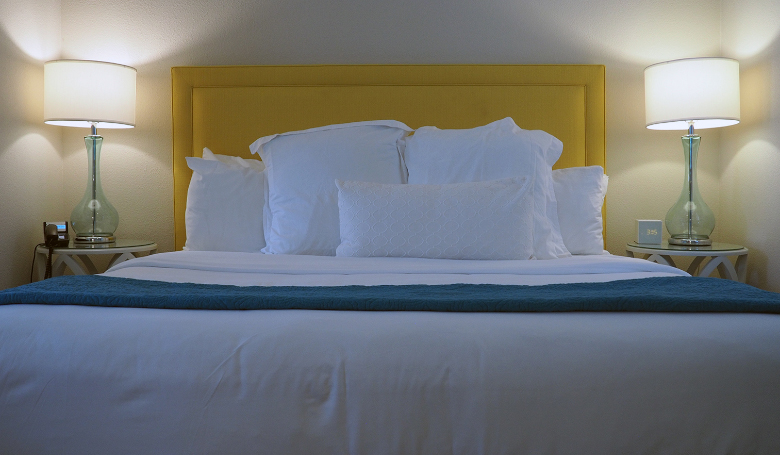 Our bungalow was separated into two sections: the living area and bedroom. In the bedroom area, it includes a comfy king size bed, and large bathroom with a shower and two-person sink. The living area had a couch, television, fireplace and a small kitchen area with a table, sink, microwave, coffeemaker and mini fridge. The cupboards also included basic utensils and cupware.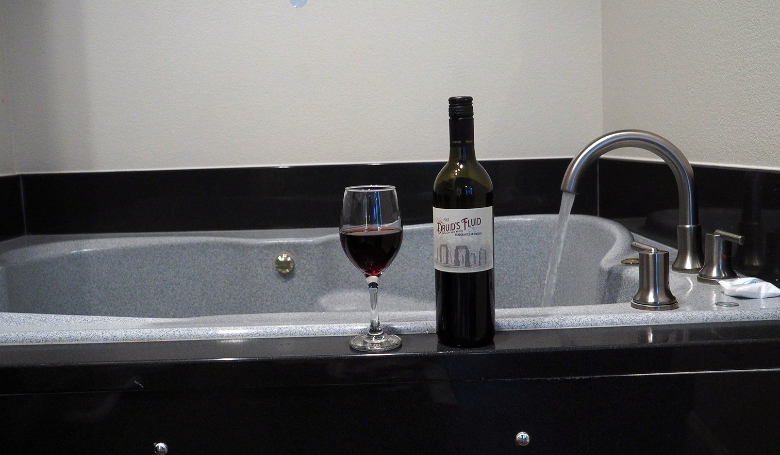 Next to the kitchen area, tucked in the corner is a two-person soaking tub fed with natural mineral spring water. This itself makes for a unique getaway. With a warm springs located just at the resort's fingertips, they offer guests the chance to enjoy these healing springs in the privacy of their own room. We personally always love these soaker tubs, so we brought a bottle of wine and some bath salts and enjoyed a peaceful soak while catching some toons on the television.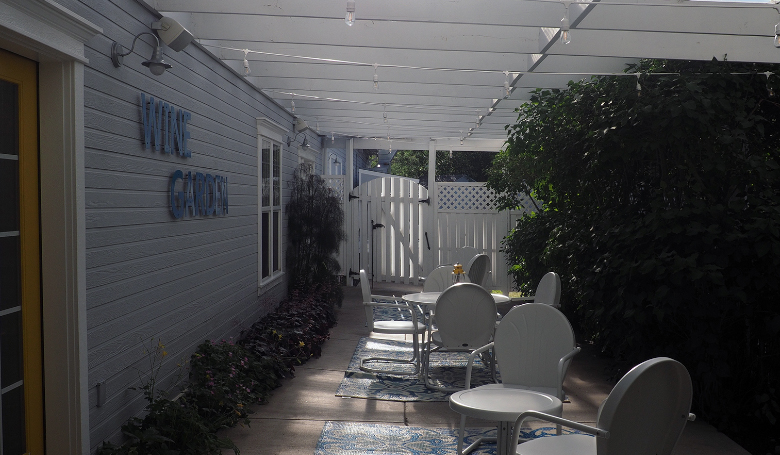 For dining options, there isn't a full restaurant, but they do offer a quite large complimentary hot breakfast, which includes scrambled eggs, meat, potatoes, bread, cereal, fruit and juices. For the afternoon, they open up a lovely afternoon tea with biscuits, and of course, tea. Complete with free parking and complimentary wifi, you have a perfect little getaway.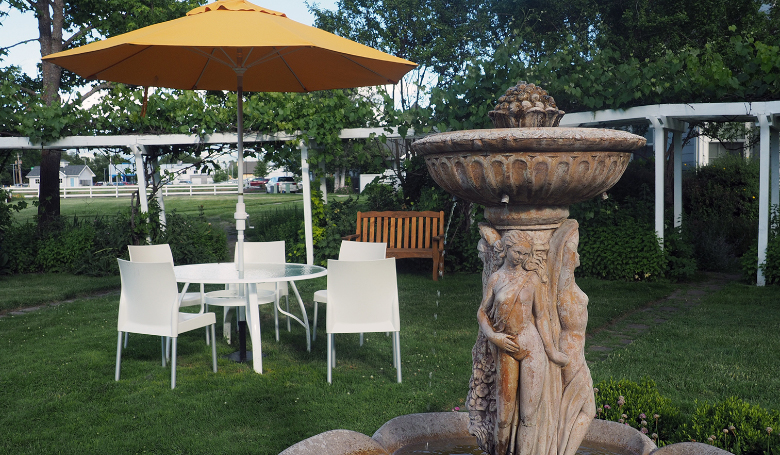 Lithia Springs Resort is managed by Neuman Hotel Group, which offers a few other properties around the Ashland area. Including the grand and historic Ashland Springs Hotel, located in downtown Ashland. We've stayed with the Neuman Hotel Group twice in the last two years, and we always enjoy using them as our Ashland getaway lodging source.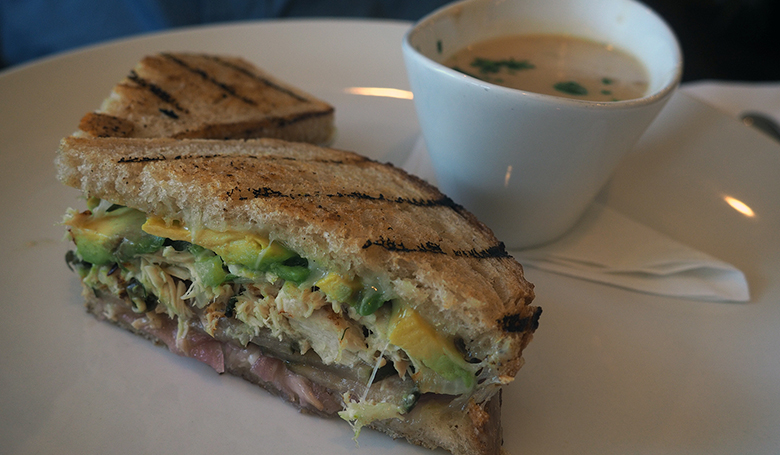 Outside the Ashland Springs Hotel, steps away from the Shakespeare Festival, is the Larks Home Kitchen Cuisine Restaurant. Offering lunch and dinner, this is a wonderful spot for both hotel guests and festival attendees to grab a bite to eat or some drinks.
Follow #LithiaSpringsResort