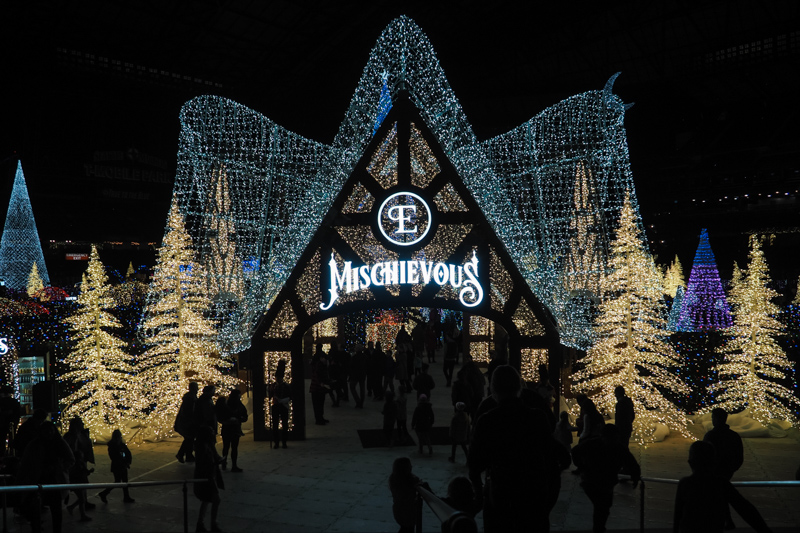 Enchant Christmas Seattle is back at T-Mobile Park and bigger than ever! After wowing Seattle crowds last year with its epic scale and awesome displays, Enchant returns to present their same magic of the holiday season with a new theme: Mischievous. If you've never attended, it really is worth a visit. It's like a very large indoor theme park version of the North Pole, and the best part is it's suitable for kids and adults alike.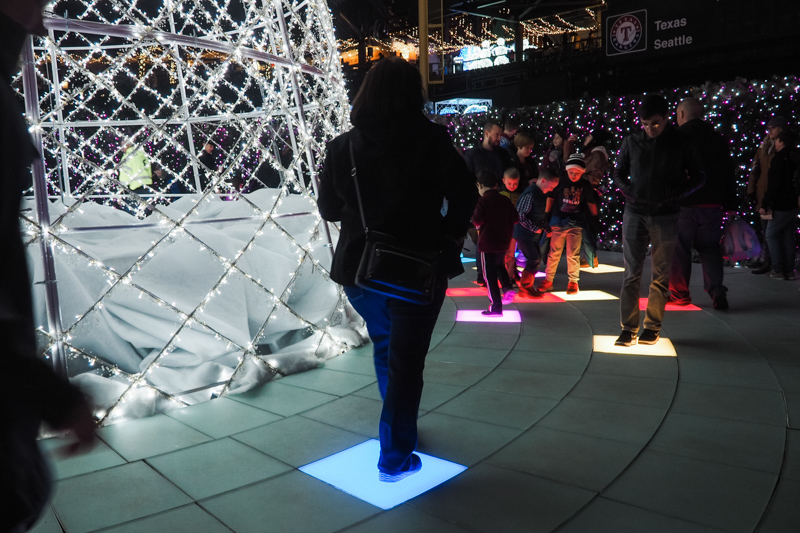 The event includes all types of features that drive home the seasonal spirit. While on the ball field in the open maze area, artificial snow constantly falls. It's a small detail, but gives just the right touch to make it feel like Christmas.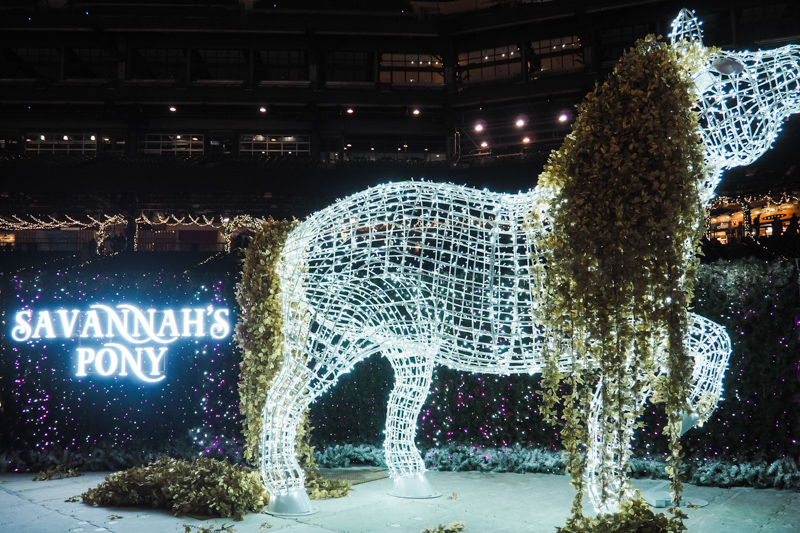 The field is dominated by the maze, but it's never difficult to find your way out if you need. The real point is not to get lost and find the exit, but to admire the extensive lighting displays all around. You'll lose count of how many different displays and Christmas ornaments are rendered in giant colorful lights, and each one is worth at least a picture.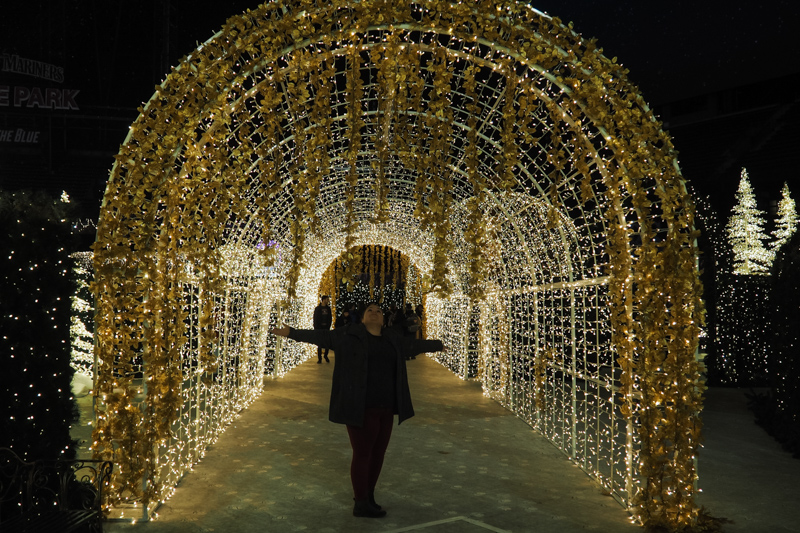 There's even a game kids can play of spotting Eddie the Elf, and his friends and checking off each site they find on a scratch card. But the hidden delight was the light up floor around one of the Christmas trees, which is something anybody can have loads of fun with.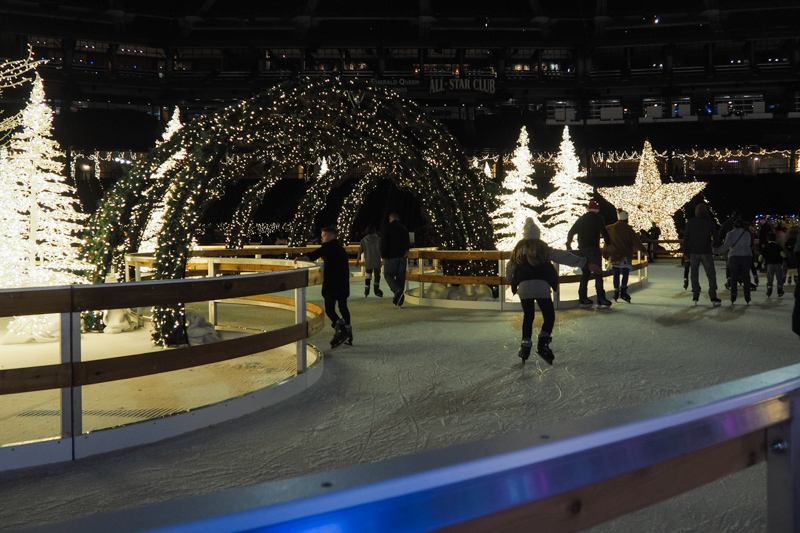 Throughout the maze there are a few serving stations where you can order both adult and kid beverages if needed. Next to the maze is a small ice skating trail, with ice skates available to rent. But don't let that stop you from bringing your own pair!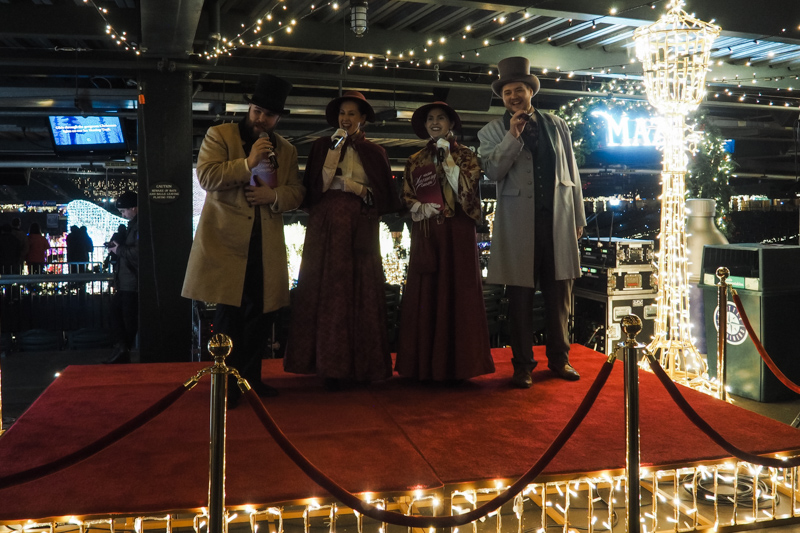 Up above in the stands there sit more delights. A projected screen lets you watch short Christmas movies in the makeshift cinema, the halls are lined with a vendor market featuring dozens of locally handcrafted items and treats for sale. Stop by and listen to the professional singers dressed in old timey garb sing Christmas carols, and you can even visit Santa or listen to Mrs. Claus read short stories out loud.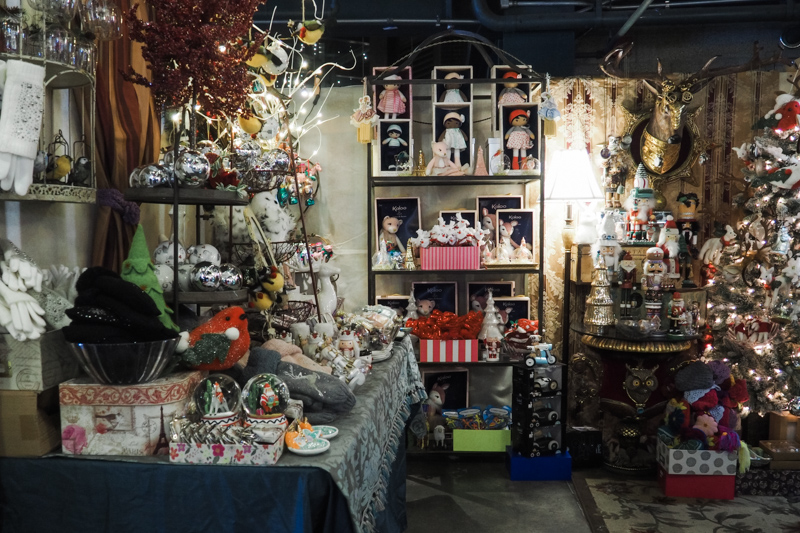 There are a few different ticket options available starting at $19.99 for adults, but we highly recommend the VIP experience, which includes a special entrance with little to no line, a delicious dinner buffet, private bar and restaurant style seating area.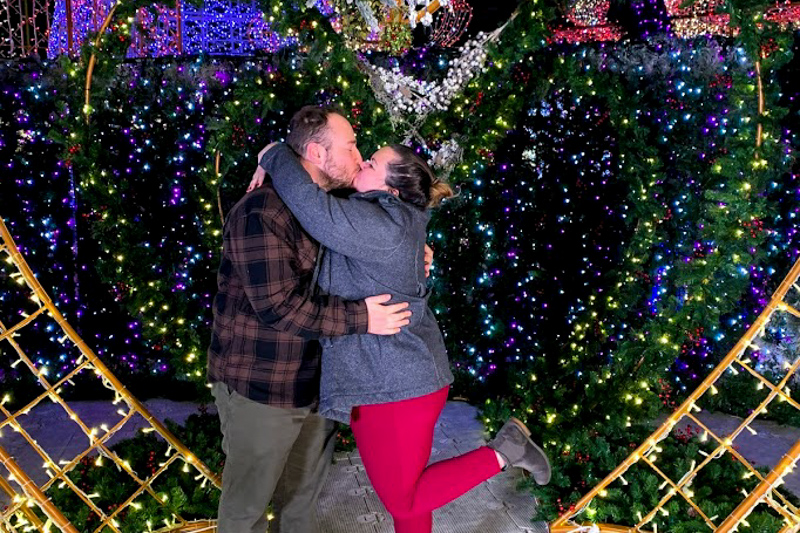 Great fun for the entire family, Enchant Christmas: Mischievous is a can't miss event if you love the holidays and want something to include the whole family. Seattle isn't known for its snow in December, so this is the closest thing you can find in the area. Enchant is open now and runs through Dec. 29 at T-Mobile Park.
'Don't Miss' Enchant Seattle:
"Mischievous" the NEW Christmas Light Maze Adventure: When Santa's gifts go missing just before Christmas, it takes the entire city to help him track them down inside Enchant's all-new Christmas Light Maze.
NEW Food and Christmas Market Experience: In collaboration with Seattle's Urban Craft Uprising, guests will experience hand-picked seasonal delights, merchant wares, and holiday experiences throughout the T-Mobile Park concourse – all-new sights, sounds, and tastes this season!
VIP Event Experiences: The T-Mobile Park Private Suites and Club Spaces will be transformed into exclusive rooms for holiday parties and special events. Enjoy all that the Enchant experience has to offer plus full service catering, and more. Enchant Christmas is now accepting reservations for Holiday Parties.
Visit with Santa and Mrs. Claus: Santa will take photos in his workshop with the children and he's bringing Mrs. Claus who will be leading story time.
Ice-Skating Trail: Enchant's beloved and light-adorned ice skating trail returns with a larger footprint. Bring your own skates or rent a pair at the event and take a glide with your loved ones – ice skating is included with the price of admission.
Live Entertainment: Guests will get into the spirit with nightly caroling and local busking-style musicians throughout the venue.
Follow #EnchantChristmas