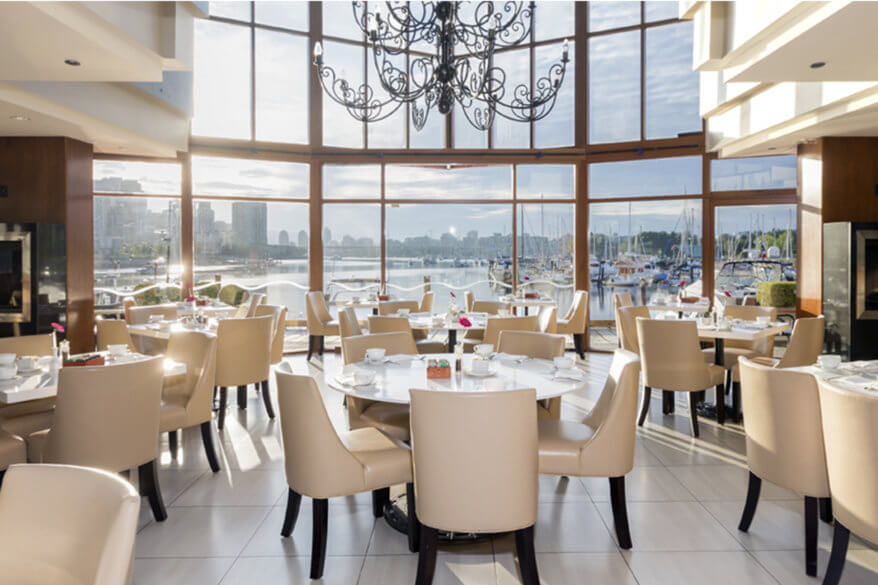 The Dockside restaurant is located on the first floor of the Granville Island Hotel (read our full Inside Look feature here!) on Granville Island. It serves guests breakfast, lunch and dinner. On Sundays they offer a special Sunday brunch menu.
Since our stay was during 'Dine Out Vancouver,' we opted in to try out their 3 course special menu honoring the event. For $35, diners can enjoy a variety of meal options that include an appetizer, main dish and dessert. Some of the menu items include braised chicken, seafood curry, lamb, and a vegetarian mushroom risotto.
I chose the braised chicken, and it was served over warm mashed potatoes topped with gravy and mushrooms. Totally delicious! If you're a wine fan, you can opt in for the wine pairing as well, which will give you 2 glasses during your 3 course meal. My chicken was served with a lovely Pinot noir, which went perfectly together and gave a nice aftertaste.
To end the evening, we enjoyed a wonderful chocolate creme brulee. The meal was delicious, and the ambiance was perfect. The restaurant follows a similar style as the hotel, and offers panoramic views of the city.
Luckily for us, our dinner was the same night as the lunar eclipse, and we were able to dine and watch the moon stages as it shifted into the blood moon.
The Dockside is perfect for a romantic night out and has something for everyone. Parking is easily accessible outside the hotel and offers free 3 hour parking. The Dine Out Vancouver special runs through February 3.
Follow Dockside