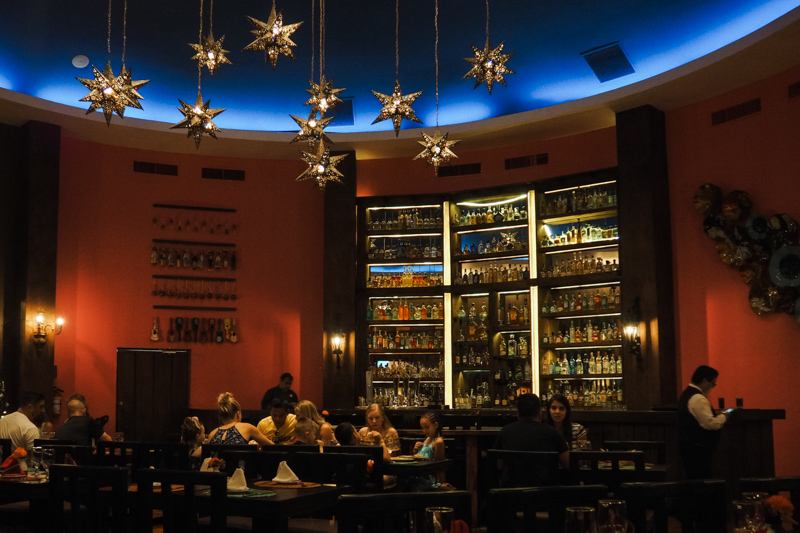 To celebrate Andrew's 27th birthday, we recently visited Seadust Cancun Family Resort in Cancun, Mexico. An all-inclusive resort located in the Hotel Zone of Cancun that sits on a long, beachfront strip.
All-inclusive meant drinks (both alcoholic and non), food and entertainment are included in the price of your stay. Since Seadust Cancun Family Resort offers 10 restaurants, and 9 bars, it is plenty to keep your appetite happy.
Our first night at Seadust Cancun Family Resort we tried their signature Mexican restaurant El Maguey. Known for their unique take on margaritas and housemade chips and salsa, El Maguey was just one of the 10 incredible restaurants that the resort offers. Remember, these restaurants are included in your stay and are at no extra dining cost to you.
We started off the night with their mango margarita, which included real mango cubes in the drink, and their fish tacos. The margarita menu has about 8 different options and all are quite delicious and unique. For our main entree I enjoyed a flank steak meatball dish with a chili type sauce, while Andrew tried their fish plate. Both dishes were not only plated to perfection, they also tasted pretty darn good too!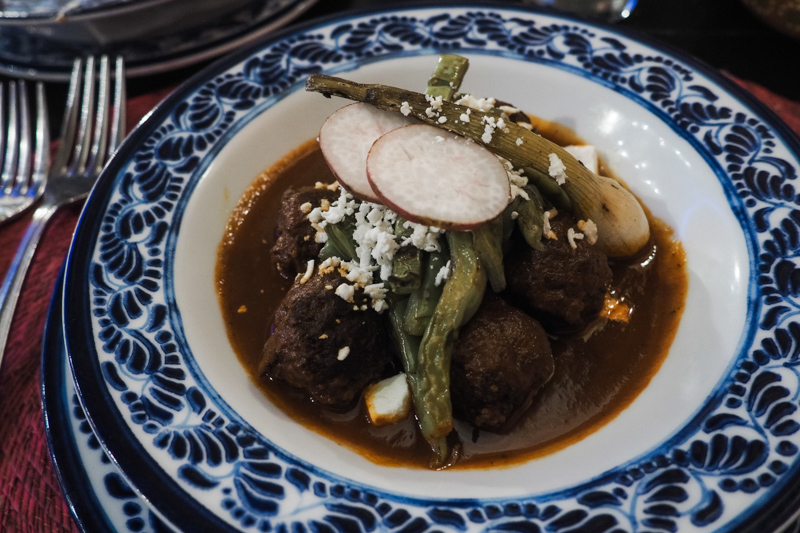 The El Maguey has beautiful Mexican themed decorations and is one of their family friendly restaurants located in the Kid Zone area.
In addition to the popular Mexican restaurant El Maguey and the 10 restaurants, Seadust Cancun Family Resort has a wide variety of food options, including a Food Gallery. Similar to food courts you may see at a mall, the Food Gallery offers a variety of cuisine options for breakfast, lunch and dinner. From Chinese, Mexican, American, to a range of fresh fruits, and desserts, it's sure to appeal to even the pickiest of eaters.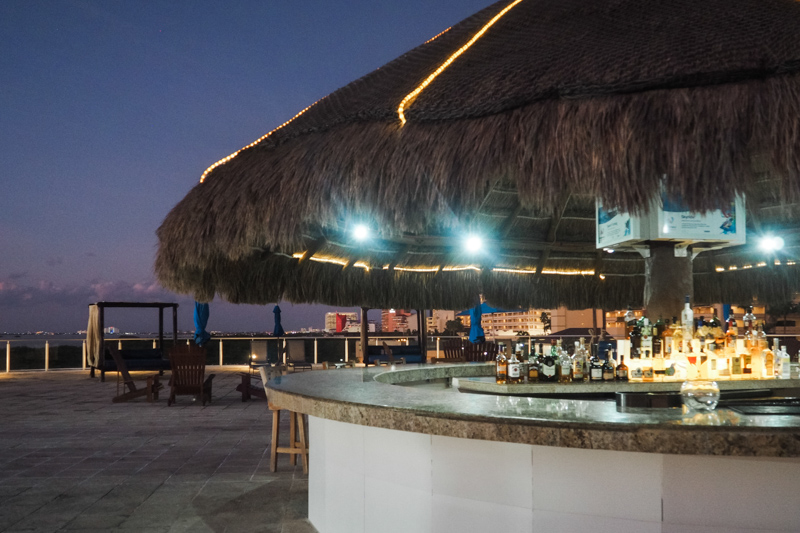 Although it can get quite crowded during peak hours, the Food Gallery was sure to take care of our dining needs. For breakfast you can enjoy everything from ham and cheese omelets to fish tacos. For lunch, enjoy some quesadillas, pizza or a simple hot dog.
For those lounging at the pool, the pool restaurant and bar has your simple poolside bites and drinks for the kids and adults. Don't forget, indulge in drinks and food, as the price to dine is included in your stay. So drink up!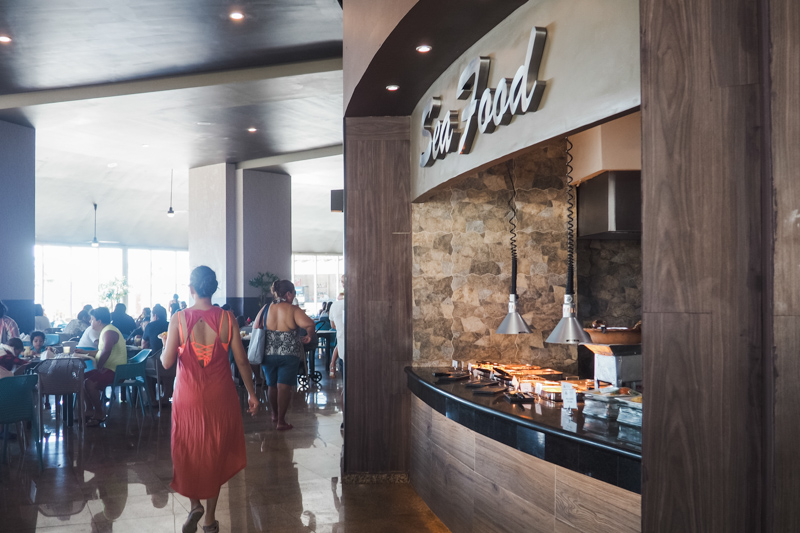 Seadust Cancun Family Resort, may be known as a resort to take the whole family, hence the name, but they offer quite a bit for those single or romantic getaway vacations. For starters, the nine bars that include a karaoke bar, casino bar, late night bar and the all-you-can-drink option, you're sure to be on Cloud 9.
However, don't miss out on booking your stay in one of the adult only suites. Choose from a range of options from the Club, Sunset and Oceanview. We stayed in the oceanview and could not have had a better vantage point of the beach and water!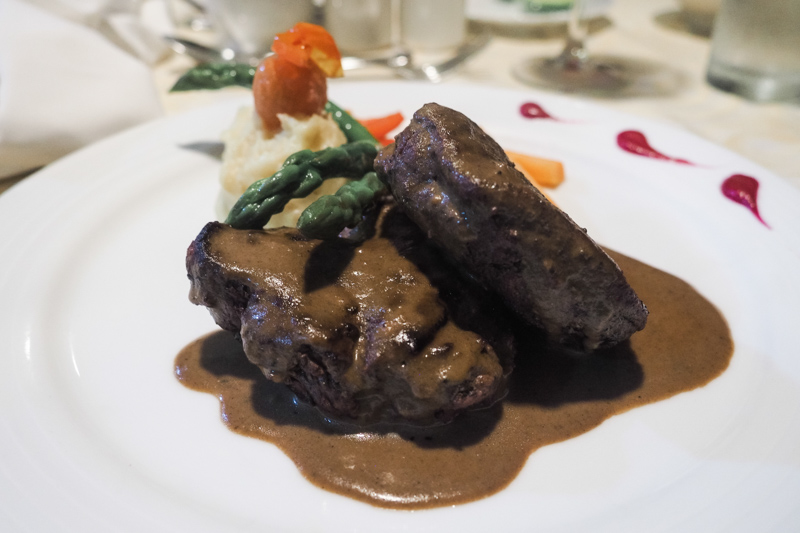 The suites include a bottle of sparkling wine and fruit basket upon arrival and to make things extra special, indulge in an in-room gourmet dinner.
For your dinner, you are catered by a Seadust hostess and enjoy drinks and dinner with the sounds of the wave from the privacy of your balcony. Choose your drinks, soup, salad, main entree and dessert. Don't worry, the food will come in phases as the hostess leaves for you to enjoy your meal and returns later with the next course.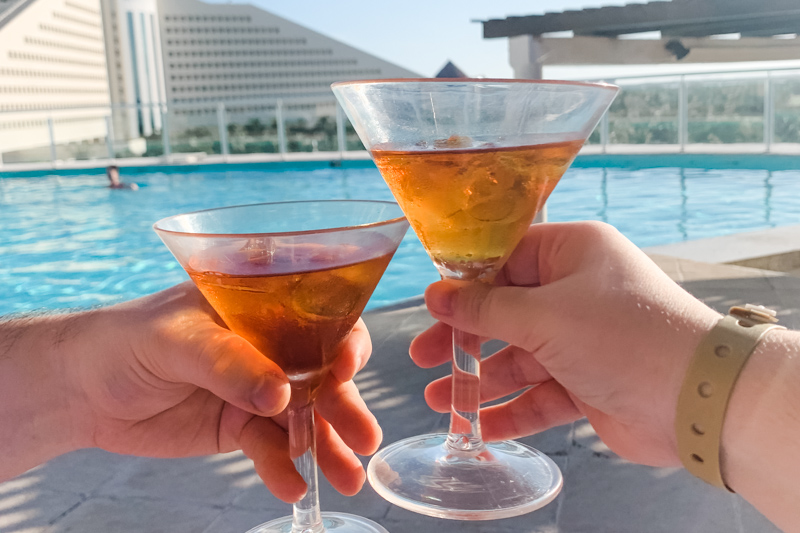 Seadust Cancun Family Resort has a lot to offer both families and adults who are looking for a getaway either large or small. You're sure to enjoy spectacular views, food and service.
Be sure to take the time to book an ocean suite and plan out your dining schedule to make the most of your time at Seadust, as they have lots of offer for a grand stay.
#SEADUSTCANCUN